Machel likely to waive right to half of Mandela's estate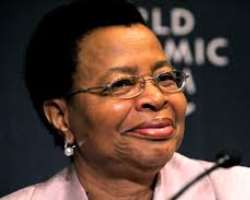 Graca Machel, widow of late former South African president Nelson Mandela, is entitled to half of Mandela's estate, but is likely to waive her right, it was revealed on Monday.
Machel has until 90 days to decide whether she accepts Mandela's will, executors of Mandela's will said.
Machel and Mandela were married in community of property, therefore she was entitled to half of Mandela's estate worth about 46 million rand (about 45 million U. S. dollars), Deputy Chief Justice Dikgang Moseneke said after reading Mandela's will at the Nelson Mandela Center of Memory in Johannesburg.
Mosenke said Machel had not yet given her decision. But according to sources close to the Mandela family, Machel would waive her right to half of the estate, opting instead to take ownership of four properties the couple jointly owned in Mozambique.
Machel is allowed to take any artefacts or works of art from the residence.
She would also keep their vehicles, jewellery she received during the marriage and all money in their bank accounts or invested with other financial institutions.
In his will, Mandela left 3 million rand (about 270,000 dollars) each to his two children with Machel. The money was given when Mandela was alive and after his death, the children would not get anything.
Mandela bequeathed 100,000 rand (about 9,000 dollars) each to six children born from a previous marriage.
Other beneficiaries from Mandela's will include the NRM Family Trust which receives 1.5 million rand (about 136,000 dollars) and royalties, said Moseneke.
A percentage of the royalties — 10 percent to 30 percent — would be given to the ruling African National Congress (ANC) for the purpose of promoting "policies and principles of reconciliation amongst the people of South Africa."
The will also provided around one million rand (about 90,00 dollars) each for Wits and Fort Hare universities, and the same amount to three other schools.
Under the will, certain members of Mandela's personal staff get 50,000 rand (about 4,500 dollars) each.
Asked at a press conference about the value of Mandela's estate after the will was revealed, Moseneke said a full and accurate value of the estate is still being calculated, but that the provisional value is currently "in the order of 46 million rand."
This does not include royalties, which are prospective in nature, nor assets held in trust, Moseneke said.
In a prepared statement, Moseneke said, "The executors of this estate are in favor of full transparency in handling the estate. They do, however, wish to achieve an optimum reconciliation between this objective of transparency with the objective of efficiency in the winding-up of the estate and obviating unnecessary and ongoing extensive enquiries relating to the contents of the Will and winding-up of the estate."
The will dates to Oct. 12, 2004. Two codicils were subsequently executed on Sept. 7, 2005 and again on Sept. 9, 2008, with regard to Mandela's bequest of his Houghton home in Johannesburg.
Asked also what the mood was among the Mandela family members during the reading of the will, Moseneke said, "Reading wills are always occasions charged with emotion."
He added that the mood had been good, with relatives seeking clarifications from time to time. Virtually the entire family had been present. Moseneke also confirmed that Mandela explained in his will why he was making certain bequests: "He tries to have a rational and emotional ground for each bequest."
"It is my wish that it should also serve as a place of gathering of the Mandela family in order to maintain its unity long after my death," Mandela wrote in his will. Mandela died of illness on Dec. 5 last year at the age of 95.