Nobody can stop me from returning to Senate - Ekweremadu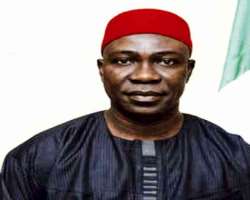 Deputy President of the Senate, Ike Ekweremadu, has said that no one could stop him from seeking re-election into the Senate in 2015.
He rather said that his political future in the National Assembly depends on the people that elected him, and not on any single human being.
Ekweremadu, who represents Enugu West senatorial zone, spoke in Enugu State, on Saturday.
He was seemingly reacting to comments from some politicians barring federal lawmakers from the state who have served two or more terms from seeking re-election.
The deputy president of the Senate expressed happiness with the quality of representation by the federal lawmakers representing Enugu West senatorial zone.
He said, 'The two members of the House of Representatives, Tobias Okechukwu and Ogbuefi Ozongbachi, have given a good account of themselves by the projects they have attracted to the area.'
Okechukwu represents Awgu-Aninri-Oji River federal constituency, while Ozongbachi, Chairman, House Committee on Works, represents Udi-Ezeagu federal constituency.
'All we are asking for is a level playing ground in any election so that the people will decide the fate of any aspirant or candidate,' said Ekweremadu.
He, however, noted that anytime the people said he has represented them enough and he should come back, he would do so immediately and join hands to support whoever they chose.
He thanked stakeholders and leaders from Ezeagu Local Government Area of the state for their support and solidarity visit to his residence.
He said, 'My continuous stay in Abuja and in politics, is dependent on you people. If you have come here today to tell me that I have had enough, and that I should stop, I will thank you and do so.
'If you have somebody in your mind you will want me to support, I will gladly have supported the person. I mean what I am saying because the power is in your hands; not in any other person. It is only people like you and God that can determine my future, no other human being can.'