Nigeria will overcome Boko haram insurgents -Onaiyekan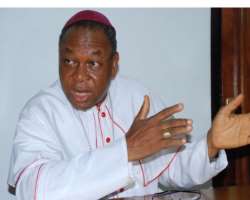 The Catholic Archbishop of Abuja, John Cardinal Onaiyekan, on Sunday expressed optimism that Nigeria would overcome the challenges of Boko Haram insurgents.
Onaiyekan expressed the optimism at a mass to conclude the 2014 Prayer Project of Catholic Charismatic Renewal of Nigeria, at Papal Ground, Kubwa, Abuja.
He said there was nothing like Boko Haram 10 years ago and it would soon become history by the grace of God.
'Let us continue to pray that God will deliver us from this 'terrible infection' of Boko Haram.
'We do not know how God will do it, but as Christians, we need deep faith and believe that God will do it,' he said.
The cleric urged Christians to continue to pray for the peace and unity of the country.
'Let us not be distracted with the bad comments around us, let us continue to contribute to the nation's building through our prayers.
'We must also do our best to be faithful to our mission, we must witness to Jesus Christ in our daily lives,' he said.
In his remarks, Mr Sylvanus Ozoekwe-Ojeani, Archdiocesan Leader of the group, gave the assurance that the members would continue to pray for the church and the nation at large.
Ozoekwe-Ojeani also prayed for the cardinal, who just celebrated his 70th birthday anniversary, saying 'you will continue to bear fruits for the nation and humanity.'
The News Agency of Nigeria reports that the 35-day fasting and prayer project which started on Dec. 30, 2013 and ended Feb. 2, 2014, had the theme 'Unless You Bless Me.'
The theme centres on the account of transformation of Jacob to Israel recorded in the Bible in the book of Genesis chapter 32 verses 24 to 30. NAN