Preach one man one vote, Jude Ejiogu urges Rochas Voter's Club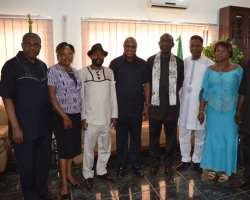 The Chief of Staff and Commissioner for Special Duties, Sir Jude Ejiogu has told members of the Rochas Voter's Club in Imo State to canvass for one man one vote initiative with a view to sustaining Nigerian nascent democracy.
Sir Ejiogu made this appeal on Thursday, January 30th, 2014 in his office while addressing members of the club, he charged them to do anything possible to sensitize the rural people on the need for one man one vote project in the state and as well, monitor their votes when cast.
He therefore expressed optimism on the efforts of the leadership of the club to unite all warring individuals who are opposed to the philosophy of the plan and assured them of his willingness to continue to support the idea.
He said, "I will do everything possible to give you due support, Rochas Voter's Club is different from other clubs in the state, it is the only institution that canvasses for genuine democracy".
"If the ideals of one man one vote get into our psyche, I see a blossoming future for our children yet unborn, even our bad leaders in every facets of the economy will see a legitimate reason to change for good. We must rally round this club for the betterment of our state and country at large" he concluded.
Speaking, the state coordinator of the club, Rv. Nwulu who spoke on behalf of his members commended the present administration's giant strides in less than three years and thanked the Chief of Staff, Sir Jude Ejiogu for receiving them even while describing him as a leader with standard.
He therefore assured him of the club's determination to instill the habit of one man one vote culture in all individuals in the state as part of their efforts in ensuring true democracy in the country even as he called on Imolites to embrace the initiative.
Ikenna Onuoha
CPS to Chief of Staff