Kanye Attacks Vogue Magazine Boss Because Of Kim!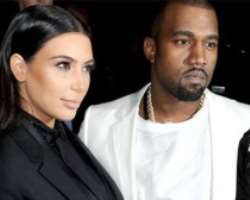 Kanye West has reportedly confronted Anna Wintour, Vogue's Chief editor, for ignoring his fiancée Kim Kardashian on Vogue Magazine's February issue. The rapper claims it's an insult that the reality star was overlooked in favour of multi-talented Girls writer and director Lena Dunham.
According to RadarOnline, the hip hop artist believes Kim has a greater appeal than Lena and argued she is just as talented as Lena, if not more. The site reported yesterday that Kanye allegedly confronted Vogue's chief editor Anna Wintour at the Beverly Hills Polo Lounge, demanding to know why Lena had been deemed a worthy cover girl for the February's issue.
A close source disclosed that, 'Kanye knows that it's always been a huge dream of Kim's to be on the Vogue cover and Kanye wants to make it come true. If for nothing else, Kanye is persistent.' The source added that Kanye is bitter because Anna is a personal friend, saying: 'To Kanye, it's insulting that his friend Anna is still refusing to even consider putting Kim on the cover of Vogue. He thinks Anna is listening to a bunch of 'know-nothing' corporate haters, as he put it.'
This is not the first time that Kanye has spoken of his desire to see his future wife appear in Vogue.
During an interview with Ryan Seacrest last year, he described Kim as 'the most intriguing woman right now' and said there was 'no way' she shouldn't appear on the cover. But Kim was conspicuously left off Vogue's ranking of the best-dressed stars at the Met Ball Costume Institute Gala red carpet last May, when she wore a top-to-toe floral print ensemble.
What do you guys think of Kanye's wish to see Kim on Vogue. Do you all think she's worth it yet?