Kim & Kayne Weddin Plan.. $30 Million To Go Down! Yet Home Is Still Unfinished!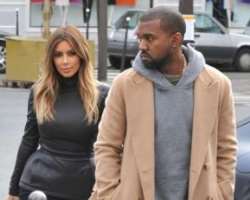 Kim Kardashian and Kanye West are planning the biggest wedding in Paris this summer and a whooping 30 million dollars is their budget! Wow, not too bad but if the reality star is making sure this marriage is way over the top, why is Kanye not speeding up on their massive $11 million home renovation? Kim isn't happy and she's getting tired of her fiance's negligence, according to close sources
Reports claim, Kim is having a hard time with Kanye's sluggishness in getting their home ready in time. The couple are said to be squatting with her mother, Kris Jenner, at her Hidden Hill house and the star really wants her own space. 'He's impossible to please,' said an insider. 'She just wants to be settled,' a source told Life & Style Magazine. 'Not squatting in someone else's house.'
According to The Weekly, their Bel Air property that was purchased a year ago won't be ready until July or August. 'The house has a long way to go before they can move in,' says a source. 'It's frustrating for Kim.
Her fiancé isn't making it any easier. He's a total snob when it comes to style, design and architecture. he thinks nothing of changing direction midway and starting over,' said the source. 'He's a control freak and flies off the handle when things don't go his way,' concludes the source.
It's obvious that Kim Kardashian has taken on more than she can handle. 'The Kardashian family is already eye-rolling about her crazy wedding plans,' a source told InTouch. 'She and Kanye have a 'go big or go home' attitude.' The affair will be even bigger than her 2011 nuptials to Kris Humphries that had 500 guests. Everything will be very ornate, from the invitations to the cake,' a source told InTouch.
'They want something very grand . It's already become a circus,' added another source. And they want an A list guest list - think Jay-Z and Beyonce - that will have to be flown in by private jet. In fact, they want the craziest, most elaborate wedding experience anybody has ever had,' added a friend.
Though they were kept from throwing their bash at the Palace of Versailles, they are already looking at other locations, like the Chateau d'Usses.