Toke Makinwa 2 Weeks Old Married Life.. Still Reeling From The Happy Feeling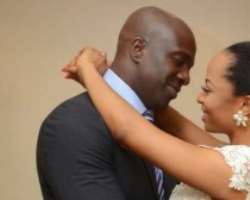 Newly wedded OAP, Toke Makinwa, who recently tied the knot with fitness guru, Maje Ayida, is finding life as a wife to be filled with bliss. Yesterday made it 2 weeks since the wedding which took place on earlier in January, and Toke is still reeling from the happy feeling.
'It was 2 weeks yesterday and I still can't believe it happened. Love is such a precious gift from God and you haven't truly lived until you have loved. I am one lucky girl, God gave me my best friend, my partner, the 'yang' to my YIN, and my Fav person in the world.', Toke gushed on instagram.
'We are soooooooo different but somehow our differences are so little in comparison to the acceptance we have of each other. This guy accepts me for who I am. He understands and listens to me. Never one to judge, a gentle heart and after all is said and done, thru the years and thru everything we have been thru, I will do it all again with you.
'I can confidently say I love you more than I did yesterday and our journey, our experiences what we have learnt was all for a time as this. Sometimes you might be what that person needs to see life differently, I am loving every minute of this new journey. Love you Mr A #darkchild #loveletter #romanticist #family.
Now that was one love ballad