Abia State Airport A Done Deal!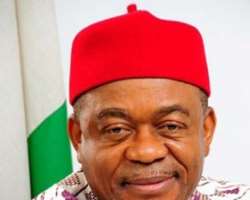 Abia State Government, Governor Theodore Orji
Abia state is among the states in the South Eastern part of Nigeria. It is predominantly occupied by the Igbo nationality and has its capital at Umuahia while Aba, an ancient town serves as a commercial metropolis in the state.
Abia state was created out of the old Imo state and has been in existence for twenty three years. The state has witnessed various administrations under the leadership of both military and civilian administrators and currently the state is governed by an astute politician an administrator per excellence a visionary and focused servant leader, a passionate ruler of our time, Chief Theodore Orji (Ochendo).
We make bold to say that Abia state for twenty three years of existence deserves an airport .The state accommodates the major commercial nerve centre East of the Niger (i.e Aba) and due to this important fact, it is necessary for an airport to be established in Abia state and this explains why Governor Theodore Orji's led government should be applauded for an all important decision to establish an airport rather than Abians dwelling on unfounded and baseless criticism.
Abia state government on Thursday 31st October, 2013 in its Executive Council meeting arrived at a decision to establish an airport in the state. This action started with the setting up of an airport implementation committee by the Executive Governor Chief T. A. Orji.
This Committee is headed by the state Deputy Governor Sir Emeka Ananaba. This pronouncement triggered off many reactions both positive and negative. For those Abians on the negative side of the reaction we plead with you to join the band wagon, to encourage this vision considering it to be a done deal and for those Abians on the positive side, please keep blazing the trail.
Gov. Theodore Orji in spite of criticisms from few quarters has not relented in his administration's commitment to building an airport in Abia state considering its importance to the good people of Abia, who only travel by air either through Sam Mbakwe Airport, Owerri, Imo state or Port Harcourt Airport. Chief T. A. Orji (OCHENDO) believes that with an Airport in place in the state, more investment and opportunities that will in a long run aid the growth of existing facilities in the state and the entire South East region shall be drawn. It is worthy of mention that the location of Abia as the commercial and industrial nerve centre of the South East undoubtedly makes it imperative for an airport to be cited in the state. With an airport in the state, businesses and tourism potentials of the state will be greatly enhanced; there will be an influx of employment that will immensely generate developmental initiatives.
The actualization of this dream is possible, with a determined and focused mind set. Chief T. A. Orji Ochendo can deliver the Airport project before the expiration of his tenure as Governor in 2015. Let all Abians bear their mind on the Akwa Ibom State Airport experience. The project was initiated by the former Governor Victor Attah barely one year to the end of his second term tenure and he made it near a completion stage before final completion by his able successor Chief Godswill Akpabio and today, Akwa Ibom state can boast of varieties of economic benefits accruable from the establishment of the airport. Judging from the aforementioned, Abia can boast of an airport in less than two years.
With deep sense of modesty, we want to implore all Abians to join Chief T.A Orji to keep the airport dream alive and shun unfounded and baseless criticism for the interest of the state, the region and the nation at large.
Emeka Anya
Chairman