Jonathan wants lawmakers' expedited action on 2014 appropriation bill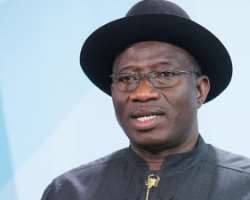 President Goodluck Jonathan has urged for quick action on the 2014 Appropriation Bill currently before the National Assembly. He appealed to the lawmakers  to ensure that his administration delivers dividends of democracy to the people.
The president spoke through the Minister of Labour and Productivity, Chief Emeka Wogu, during a stakeholders forum of the Subsidy Reinvestment and Empowerment Programme held inside the Presidential villa, Abuja.
Jonathan's appeal came barely 24 hours after the Minister of Information, Mr. Labaran Maku, said the leaders of the APC were endangering the survival of Nigerians with their directive.
The President specifically appealed to the Chairman of Senate Committee on SURE-P, Senator Abdul Ningi, who attended the event, to help him prevail on his colleagues in the National Assembly to speed up their consideration of the budget.
'Let me appeal to Senator Ningi, who chairs the Senate committee on SURE-P, to please help urge his colleagues in the National Assembly to expedite consideration of the 2014 budget which is currently before them in order for us to continue to deliver dividends of democracy to our people,' he said.
Ejigbo women assault: lagos to prosecute suspects
The Lagos State Ministry of Justice said on Wednesday it is ready to prosecute those involved in the alleged torture of a woman and her daughters in the Ejigbo market area of Lagos.
The woman, her daughter and step daughter were subjected to unbelievable acts of torture and brutality for allegedly stealing pepper at the market.
Our judiciary correspondent, Shola Soyele was at the Ministry of Justice where the state's attorney general, Ade  Ipaye during a press briefing on the activities of his ministry in 2013, said the Lagos State government is committed to ensuring that justice is done in the case.
The AG also took time to reel out the statistics from the 2013 performance of the various law and order directorates under his ministry. He urged members of the public to take full advantage of the services of the various directorates and desist from resorting to self-help.
The office of the Public Defender, Directorate of Citizens Rights, Citizens Mediation Centre and the Lagos state Public Interest Law Partnership, are some of the directorates put in place by the government to ensure access to justice and the protection of citizens' rights.