Senate confirms appointment of service chiefs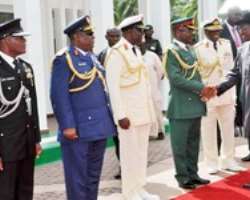 The Senate, on Thursday, confirmed the nominations of the service chiefs, based on the recommendation of its joint committee on Defence and Army, Navy and Air Force.
The confirmation of the service chiefs was, however, in flagrant disregard to the directive of the All Progressives Congress (APC) to its members in the National Assembly, asking them to block all legislative bills and approval of all Jonathan nominees for appointment as service chiefs and minister, as well as passage of the 2014 budget.
President Goodluck Jonathan, on January 21, wrote the Senate, requesting for confirmation of the four nominees, to wit, Air Marshal Alex Badeh, Chief of Defence Staff; Major-General Kenneth Minimah, Chief of Army Staff; Rear Admiral Usman Jibril, Chief of Naval Staff, as well as Air Vice Marshal Adesola Amosu, Chief of Air Staff.
The request by President Goodluck Jonathan was in line with Section 218 of the 1999 Constitution (as amended), which empowers the president to appoint service chiefs for the Armed Forces of the federation.
Based on its powers, the Senate screening committee conducted a public hearing and having found the nominees qualified, prayed the Senate to confirm them.
Senator George Sekibo-led committee observed in its report that 'having assessed the four nominees thoroughly and found them fit for the leadership of their respective services, the joint committee wishes to recommend that the Senate do confirm and approve their appointment and decoration by the president of the Federal Republic of Nigeria as service chiefs.'
Majority of senators within the Peoples Democratic Party (PDP) and APC supported the motion for the approval of the committee and subsequently recommended the appointment of the new service chiefs and the Chief of Defence Staff.
Senate minority leader, George Akume, said APC members in the upper chamber were not against the approval of the new service chiefs and the CDS.
Also, Mohammed Saleh, Magoro and James Manager commended their colleagues for endorsing the appointment of the service chiefs, who they described as accomplished professionals, eminently qualified for the position.
In his contribution, Senator Sanni Saleh noted that the officers were deserving of their appointments, having possessed the necessary qualification and experience to man their respective positions.
Deputy Senate President, Ike Ekweremadu, who presided over the session, commended President Goodluck Jonathan for sending nominees for appointment as service chiefs to the National Assembly, in accordance to the constitution.
He congratulated the appointees and urged them to live up to expectations, especially as the nation was going through a trying moment.
'We believe that at this trying moment for us as a nation, I hope they will live up to expectations. This is the first time the law concerning appointments of service chiefs is being adhered to.
'We are very proud of our democracy, we are proud of the Armed Forces and we are proud of the National Assembly. We will continue to do our best to ensure that democracy is sustained,' he said.