10-man Ghana edge out Eagles 4-1 on penalties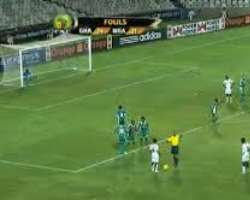 Hard fighting Nigeria's Super Eagles were Wednesday night at at the Free State Stadium, Mangaung in South Africa edged out by a resolute Ghanaian team.
The result sets up Ghana, Libya final on Saturday.
The two teams emerged victorious in their respective semifinal matches  in dramatic circumstances. Both matches were resolved through penalties as scores after 120 minutes of gruelling football action ended in goalless draws.
Eagles, tipped to qualify for the final, paid the price of failing to convert their penalties. They scored only one of their three spot kicks while Ghana netted four times, to end Coach Stepehn Keshi's bid to become the first African coach to lead a team to Africa Cup of Nations and African Nations Championship success.
The Eagles can only have themselves to blame for their failure as their strikers failed to make the most of the ample opportunities that came their way. They strikers were simply wasteful. Barnabas Imenger was the worst culprit.
Playing against a 10-man Ghana team was not enough motivation for them to dim the Stars of theie west African rivals. Ghana's Kwabena Adusei was sent off by the referee on 63 minutes but the Nigerians failed to press home their one-man advantage in the encounter.
Star player, Ejike Uzoenyi tried his best but it was not enough to break down the defence of the Stars, who came into the match with an impressive defensive record of having conceded just one goal. That record still stands and they fancy their chances of beating Libya in the final. Eagles will confront Zimbabwe in the losers final also on Saturday. It is a mere consolation for a team that showed so much promise but failed to find their range when it mattered most.
Ghana were resolute and purposeful last night as they kept the Eagles at bay. They also showed glimpses of a team with a potent attacking power. They were clinical in the execution of the penalties as all their four players scored their spot kicks while Uzoneyi was the lone scorer for the Eagles.
Solomon Kwanbe, and Ugona Uzochukwu both missed their penalties, to mark an end to Eagles run while Ghanaian fans went wild in celebrations.