APC Loses Rep To PDP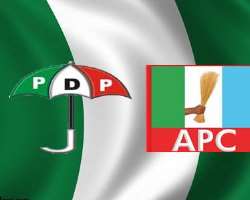 As House probes purported arrest of Boko Haram suspects in Rivers BEVERLY HILLS, CA, January 28, (THEWILL) - The opposition All Progressives Congress (APC) Tuesday suffered another loss in the House of Representatives as the chairman of the House Committee on HIV/AIDS, Tuberculosis and Malaria Control, Hon.
Joseph Haruna Kigbu, defected to the ruling Peoples Democratic Party (PDP).
Kigbu represents Lafia/Obi Federal Constituency of Nasarawa State and was until his defection on Tuesday a member of the APC.
His defection was contained in a letter addressed to the Speaker of the House and read on the floor.
Nevertheless, the controversy surrounding which of the parties controls the majority still subsists as both the APC and PDP continue to lay claim to the numerical superiority in the House.
At the inaugural meeting of a pro-PDP group tagged, the National Unity Group, two days ago, the leader of the group, Hon.
Bitrus Kaze, could not provide a definite answer as to whether the PDP or the APC was in the majority.
Meanwhile, the House has mandated its committee on Police Affairs and Human Rights to look into the purported arrest of suspected Boko Haram members in Rivers State and report back to the House on Sunday.
This decision was taken after a motion of urgent national importance brought by the deputy minority leader, Hon.
Suleiman Abdulrahman Kawu (APC, Kano), was adopted without debate at the plenary.
In his lead debate, the deputy minority leader claimed that the incident has sparked a 'furious debate in the polity and raised tension in security circles in the state.
' He said he was disturbed that the arrest of the 320 persons has raised several issues that require immediate attention for the security and political well-being of the country and its citizens.
The  Kano-born lawmaker said the persons who were arrested were in Rivers for legitimate business, saying  most of them were petty traders and menial job seekers in search of livelihood.
He lamented that 'such manner of arrests and injustice portrays obvious danger capable of breeding political instability to the already overheated polity as the suspects were known to be law abiding whose nature of business was well known.
' Kawu maintained that section 41 of the Constitution of the Federal Republic of Nigeria (as amended) guarantees that every citizen of the country is entitled to move freely throughout Nigeria.
He noted that this was not the first time that the suspects were in Rivers State but lamented that the police in Rivers State decided to 'jettison their primary responsibility of protecting the citizenry to harassing innocent people in pursuit of personal and sectional interest.
' He warned that if urgent steps are not taken, this arrest may bring about political instability, insecurity and may lead to breakdown of law and order, posing threat to the very existence of the country as a whole.
By Saint Mugaga, Abuja