Boko Haram kills 70 in fresh onslaughts in Adamawa, Borno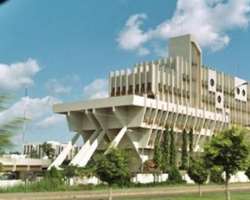 Gunmen suspected to be members of the Boko Haram Islamic sect have killed about 70 persons in two separate attacks in Adamawa and Borno States. In one incident, some men armed with guns and explosives killed 18 people at a busy Catholic Church during a morning mass in Waga Chakawa village in Adamawa State.
The community is in Madagali Local Government, which borders Gwoza Local Government of Borno State and is known for series of insurgent attacks since the declaration of state of emergency. The assailants, according to eyewitnesses, had set off bombs and fired into the congregation in the church on Sunday morning at about 10 am, before burning houses and taking residents hostage during a four-hour siege. None of the taskforce teams was said to have responded to distress calls. It was further confirmed that some houses were razed by the attackers who also took some men as hostage, while some were beaten and injured.
'I saw some people crying saying that their relations had been taken away as hostages by the gunmen,' said a man who identified himself as Musa. Attempts to get the military and police authorities in the area to comment on the incident did not yield results. However, the Reuters news agency quoted a soldier in the area, who spoke on condition of anonymity, as stating that nine people lost their lives during the attack. He said the army had sealed the area and were hunting for the attackers. The spokesman for the Catholic Diocese of Yola, Reverend Father Raymond Danbouye, confirmed that the 22 people who were killed in the attack were buried at a funeral yesterday. In another incident, security officials have confirmed that the same suspected Islamic extremists used explosives to attack a village in Borno State, killing 52 people and razing more than 300 homes. A security official told AP yesterday that the attackers planted several explosives at a market around Kawuri village in Konduga Local Government Area on Sunday.
They were alleged to have also wounded several policemen as well as civilians in the attack that took hours. The attack, which happened at about 5pm on a market day (Sunday), according to a source, led to many traders and residents sustaining burns and had to be taken for treatment at both Konduga General Hospital and the University of Maiduguri Teaching Hospital. In the last one week, over 100 persons have been killed in attacks alleged to have been initiated by the terrorist group. These attacks, according to the United Nations, have led to 6,000 persons fleeing to neighbouring countries. Thirty-seven communities of Kwaljiri, Kaya, Ngawo Fate, Limanti, Njaba, Yahuri, Mude, Wala and Alau, among others, in Damboa, Konduga and Gwoza Council Areas have all been sacked by terrorists compelling displaced residents to take refuge in some neighbouring villages of Cameroun and other towns, including Maiduguri metropolis. As a result of the latest attack, Borno State Governor Kashim Shettima was said to have prepared to visit the village yesterday, but was advised by the security agencies to shelve the idea as the military was still conducting an operation to flush the insurgents out of the village.
A protocol officer at the Government House told journalists that the 'governor's visit to Kawuri has been cancelled because the military has advised against it as they are still conducting an operation in the area.' Bulama Kuliri, a resident of the village, who spoke to journalists, said: 'I believe more than 50 people have been killed in the attack because the whole village has been razed by the Boko Haram and there were still loud explosions from different directions as I left with bodies littering the village.' Military and police officers had entered a closed door meeting with the governor over the incident. Police Commissioner, Lawan Tanko, confirmed the attack, but would not give details on casualties. - Thisday.