Nigeria National Congress (NNC) Communique After Enugu Meeting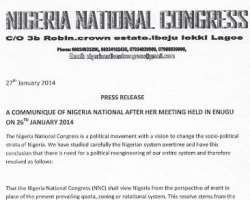 The Nigeria National Congress is a political movement with a vision to change the socio-political strata of Nigeria. We have studied carefully the Nigerian system overtime and have this conclusion that there is need for a political reengineering of our entire system and therefore resolved as follows:
That the Nigeria National Congress (NNC) shall view Nigeria from the perspective of merit in place of the present prevailing quota, zoning or rotational system. This resolve stems from the fact that the prevailing policies of quota, zoning or rotation does not favour the gifted child. At 100 years, we as a nation should have grown beyond clannish, regionalistic, quota-driven and favouratism ridden political and social tendencies in our scheme of things.
These unfortunately has quagmired our unity and progress as a nation hence our resolve to say no to zoning both at local, state and national levels of our political enterprise as a nation. In view of that, we hereby request that the federal government should urgently put machinery in place towards the reversal of the Federal Character Policy of the federal government while also making policies that will engender tribal integration in Nigeria.
That we will support any political party that does not believe in zoning but decides to field candidates based on merit and track record of achievements in his/her field of endeavour overtime.
That no single individual be he a Chairman, Governor, or President is qualified to assume god and single handedly say he is handing over to one particular person or zone the governorship of a state or chairmanship of a local government as that is totally undemocratic, autocratic and an abuse of the political trust of the people of such state. Such act as recently pronounced by His Excellency, Gov. Sullivan Chime of Enugu State, will only produce inept political stooges that will end up brewing skirmishes among the principal actors as being witnessed in the present political dispensation.
That the controversy trailing an undeclared second term bid of President Jonathan is uncalled for as he is constitutionally empowered to recontest for a second term in office just as any Nigerian of any ethnic extraction has the constitutional right to challenge him at the polls. 2015 should not be tied to ethnicity as currently being thrown up by certain individuals and group. The office of the president of the federal republic of Nigeria should not be watered down to ethnicism.
That members of political parties in Nigeria should believe in their party ideologies and values. It is the absence of political ideology that has led to the constant wrangling and unreasonable cross carpeting in the polity thereby leading to political drawbacks in our quest for national political development and making our polity ever nascent.
Thank you.

N.McGINGER IBENEME mbbs
National Coordinator

ENYINNAYA UCHENNA LUKE
National Publicity Secretary
2014-01-27 131946
2014-01-27 131929