Uzoenyi good enough for Brazil 2014 Eagles, says Okala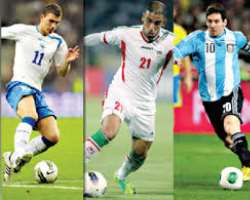 For ex-Green Eagles goalkeeper Emmanuel Okala,  Super Eagles' forward Uzoenyi Ejike should get a place on the team's squad to June's FIFA World Cup in Brazil.
Ejike is one of the most talented footballers of his generation, Okala told the News Agency of Nigeria on Sunday.
According to him, the wing forward has only been unfortunate not to have left the shores of the country for greener pastures abroad.
'Uzoenyi is a rare player who has not made it to Europe. He fears no defence and urges his colleagues on.
'He will be a great asset to team head coach Stephen Keshi if he makes it to the World Cup finals in Brazil, because he is just too good enough for the mundial,'' the former national under-17 team assistant coach said.
Okala who was full of praises for Ejike, describing his performance as spectacular, also said the Nigerian team deserved all praises for their dramatic comeback victory against Morroco.
NAN reports that the Super Eagles had on Saturday won 4-3 against the Atlas Lions, after trailing 0-3 by half-time.
The former Rangers International FC goalkeeper pointed out that what actually turned the game around for the Eagles was the motivating spirit of Ejike who kept the Moroccans busy.
'Ejike really deserved his Most Valuable Player award, and it is a kind recognition of his efforts.
'But, overall, the Eagles showed the great Nigerian spirit, determination and patriotism, and these combined to win the game for us.
'In addition to this, we have a coach who was sure of himself and remained calm until he began to see what he expected,'' he said.