Dangote to invest $4.6b in agriculture in Nigeria, to create 180,000 jobs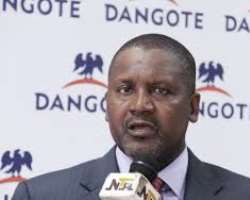 Dangote Group plans a rash of investments in agro-allied industry in Nigeria in order to boost country's development in that sector.
To this end, the company will  invest $2.3 billion in agriculture, $2 billion in sugar, and $300 million in rice production to make Nigeria self-sufficient in food production and also stop importation.
The President of the Group, Aliko Dangote, who announced this last week at the World Economic Forum (WEF), Davos Switzerland,  said his group's planned investment in the agricultural sector would create additional 180,000 jobs in the economy.
'If I dreamt five years ago that I would invest in Agriculture, I will write it off as bad dream or nightmare but today, we're investing $2.3 billion in Agriculture, $2 billion in sugar, and $300 million in rice. In Nigeria, we have one of the most attractive investment policies through framework that the government has put in place to help businesses succeed,' Dangote said.
It is expected that the planned investment will effectively enable the country become self-sufficient in food production as it did in cement sector.
Dangote Group ended cement importation with three plants located at Obajana, Gboko and Ibese meeting domestic demand for cement. The Group through massive investment in sugar cultivation as part of the national sugar master plan will put Nigeria on the world sugar map and end importation of raw sugar.
Dangote Sugar, a subsidiary of the Group, is a front line player in the sugar backward integration policy. The company is working towards producing One million tons of white sugar by 2015, cultivating 100,000 hectares in about six states of Sokoto, Kebbi, Jigawa, Taraba, Kogi and Kwara State.
Also, the investment in rice cultivation will boost local production and in years to come end the nation's dependence on imported rice. The Group is investing heavily in agricultural sector principally because it is motivated by the desire to create jobs, empower Nigerians, and owing to a friendlier agricultural policy of the federal government. Reputed to be the single largest private sector employer of labour in Nigeria, the Group   is currently investing in fertilizer plant in order to boost agriculture.