Nigeria Dancing DISCO With Electricity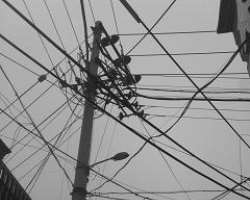 When question drop for mouth,
Question go start to run,
When answer drop for mouth,
Answer go run after am,
When answer jam question for road
Another thing go shele o, uh
Why you mash my leg for ground?
You no see my leg for road?
Question don drop for mouth,
Question don start to run,
Why you put your leg for road?
You no see say I dey come?
Answer don drop for mouth,
Answer don start to run,
Fela Anikulapo Kuti in Question Jam Answer

I got home weeks back, and on my study table was the power utility bill, it read N10,000.00K. Before I could finish studying it, my wife joined, and asked if it was the bill for the year or if we had stopped paying the bills.

I know that the consumption had been increased for a while, but I could not understand the 'astronomical' increase for a service that hasn't been there in the first instance or at best been dancing disco when available.

So, the following morning, I was quick to make my way to the PHCN office, now Jos Electricity Distribution Company PLC (JED) permit me to call them JEDi-jedi...on getting there I discovered that I was just one of the many aggrieved customers.
Questions were flying everywhere, I remained calm till it was my turn, and the following conversation ensued.

Staff: Sir, how can I help you?
PCD: Madam, I do not understand this bill
Staff: Oooh, you wont sir, before government was subsidizing the amount you were paying, and they have stopped, so it is a reason.
PCD: (Trying so hard to be calm) what subsidy, how did it just jump from barely N3,000 to 10,000. Please madam something is not right.

Staff: Let me look at it again, (after a long glance) it looks like you were placed on estimate for this month, that is why.

Before I could talk, another dissatisfied customer shouted on her, "what nonsense! You told me the same thing, what then is the essence of having a meter, how do you place a whole community on estimation for electricity not consumed."
I am an analog man, so don't blame me, I still use the old meter, but it made no difference as persons on the new GSM like card system were asking questions, because some of them received bills. How was that possible, question jam answer?
In June 2013, I paid my bills via POS, and it did not reflect. I complained, I wrote letters, both close and open, I have screamed, I have begged but to no avail.
I was told the banks were at fault, later, I was told they had software issues, and then it was a case of photocopy your bill, text your meter number, the only thing I was not asked for was my first school leaving certificate. Yet it is January 2014, and nothing has been done.

All these could be classified as collateral pains if after all there is power, but instead we are fed with the political gimmick of "…there is power for an average of 16 hours across major Nigerian cities" by Ngozi Iweala, Madam Minister for Finance.

It is ironic that only Ngozi, Labaran, and other government officials that experience electricity for an average 18 hours a day.

Most Nigerians applaud the fact that PHCN is dead, but many a Nigerian now craves for its resurrection, as the new DISCOS, at best have failed in the electric dance.

We are still in the NNPC said "there is no gas, we have supplied, and they did not pay", era. Despite the best of efforts, most Nigerians do not understand the whole privatization, unbundling or fondling of power by those concerned.

We are an impatient nation but is this electricity matter not one that should have been done and dusted, why is it we still suffer high current—electric gadgets bear the brunt, no one is held liable, and then low current—you can barely see, so there is electricity but it cannot power a bulb.

My friend Sam Amadi and the Transmission company people are doing loads of hardwork but truly it amounts to nothing when there are many questions and no answers, I agree that we are a difficult people, it is probably only in Nigeria that PHCN owes NNPC for fuel supplied, and NNPC has not paid for electricity supplied and state houses owe utility bills, while citizens that have not paid bills in years have power as long as there is power to spare.

I know it is the same nation that after the fatia, Lord's prayer and phrases like Allahmudillahi, and Hallelujah, one must have under the breath said "Up NEPA" or muttered "Thank God there is light."

I agree that it would be difficult because millions of consumers are accustomed to that particular house that signposts whether there is light or not, some of us even call home to ask if there is light, rather than ask if everyone is safe.

I do not need lecture us on, the benefits derivable to the Nigerian economy in the event we sort out our electricity palaver.
I must state solution does not lie in Chinese, World Bank loans or Private Partnership but upon a strong political will by both leadership and those governed.

Meanwhile, at the office, we had cumulatively two hours of electricity, and it came in a space of 8 occasions the light was DISCO lights, off and on.
We may be on track, but really if this is the track, then, in Amauche Ude's words we will keep making or recycling same mistakes. Would there truly be light soon--only time will tell.
Disclaimer:

"The views/contents expressed in this article are the sole responsibility of the author(s) and do not necessarily reflect those of The Nigerian Voice. The Nigerian Voice will not be responsible or liable for any inaccurate or incorrect statements contained in this article."
Articles by Prince Charles Dickson