Charles Novia: How signing Genevieve as Etisalat ambassador may affect relationship with Dbanji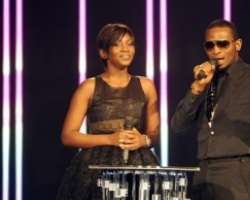 Movie producer and critic Charles Novia has expressed concern over the emergence of Genevieve Nnaji as Etisalat ambassador will have her relationship with music maestro, Dbanji.
According to Novia,  Geneveive Nnaji may be forced to break up with her boyfriend D'banj - a Glo ensignee.
Genevieve Nnaji was recently announced as one of the new Brand Ambassadors of Etisalat, a telecommunications company operating in Nigeria.
He said 'Amid the congratulatory messages from her fans sent to her on some sites, a few cynical remarks caught my attention. (By the way, congrats Ms Nnaji!)
'Congrats, Genevieve. But wait o…your Boyfriend, D'Banj is a Glo Ambassador and now you are an Etisalat Ambassador. It has been reported that two of you will marry this year after being live-in-lovers and dating steadily for a while now. Since both of you have not denied this piece of news, I assume that it is true.
'With this new deal of yours, does it mean you cannot attend any show sponsored by Globacom in which D'Banj is a headliner despite him being your BF and you being expected to support your beau?
'And same goes for him too in any of your Etisalat sponsored shows? Won't your relationship be strained by this?''
'However nosy this comment may seem to some people, there is an underlying fact which many celebrities and of course the general public have  overlooked when it comes to signing brand endorsements. Most of these contracts, if not all, are watertight for the artiste. The dos and don'ts imposed on the artistes could be argued in a civil rights court of law!
'But then, most artistes are quick to sign off the dotted lines basically because of the lump sum being paid to them by the competing brands.
'I am not going to knock anyone in this write-up. I commend the dedicated efforts we all have put over the years to build the entertainment industry to this level. And my opinion is basically, my opinion.