Nigeria holds presidential, legislative polls on February 14, 2015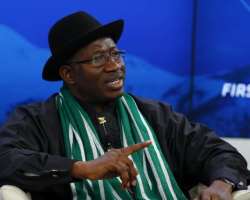 Nigeria's President Goodluck Jonathan speaks during a session at the annual meeting of the World Economic Forum (WEF) in Davos January 22, 2014.
The Independent National Electoral Commission (INEC)  has fixed the next  presidential and parliamentary elections on February 14 next year, according to a Reuters report late last night…
The elections are expected to be the most closely fought since the end of military rule in 1999. President Goodluck Jonathan's supporters are embroiled in a bitter dispute with other members of the ruling party over whether or not he should seek another term in office.
It is expected to be a tough battle between the ruling Peoples Democratic Party (PDP) and the newly registered political group, All Progressives Congress (APC), which was an amalgamation of major opposition political parties in the country.
Recent defections from PDP to APC, which came as a fallout of a debilitating internal crisis in the party, has helped the opposition party up strength and make it more competitive.