School teachers in Abia applaud Gov Orji over renovations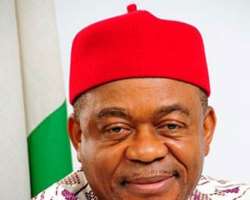 Primary school teachers in Isialangwa North and South local government areas in Abia have expressed happiness with the renovation of their classroom blocks.
The teachers said in separate interviews that the initiative would help to tackle the problem of accommodation in the schools.
At Umule-Ovungwu Community Primary School in Isialangwa South, the Headmistress, Mrs Clementina Ekojeni, thanked the federal, state and local governments for coming to their rescue.
Ekojeni said both the teachers and pupils experienced hardships during the rainy season due to the leaking roofs and dilapidated walls.
She noted that the project had been completed but was yet to be handed over to the school.
The Chairman of the School's Management Board, Mr Gabriel Onwubiko and the Village Head, Chief Friday Nwankwo, said in separate interviews that the intervention had brought succour to the schools and communities.
Mrs Salome Nji, the Headmistress of Umueleghele Community School in Isialangwa South, thanked God for the renovation and expressed joy that the government had remembered them.
Mr Hyacinth Nwosu, the Headmaster of Umuokoro Community Primary School also in Isialangwa South, said the intervention had given a facelift to the school.
Nwosu said the initiative had given the teachers, pupils and entire community a sense of belonging, saying that they now feel the government's presence.
Mr Ephraim Ikpeama, a teacher at Eziama/Obuba Community Primary School in Isialangwa North, said the renovation would help to check congestion.
Ikpeama noted that nursery pupils were crammed in the same classes with the primary school pupils due to the dilapidation of the nursery section.
At the Amapu-Ngwa Ukwu Community Primary School also in Isialangwa North, the Assistant Headmistress, Mrs Blessing Ogbonnaya, said the renovation of three classroom blocks had created a good learning environment.
The teachers, however, called for more interventions in the area of infrastructure and social amenities, including the provision of chairs and tables as well as conveniences, libraries and stores.
They also requested the state government to send more teachers to the schools to enable them to cope with the number of pupils in the schools.
The renovation is part of the intervention programme by the Office of the Senior Special Assistant to the President on MDGs (OSSAP-MDGs) in collaboration with the state and local governments.
The intervention covers critical areas of education, health, water and sanitation as well as works in six local government areas.