Nigerians don't respect their leaders- Obi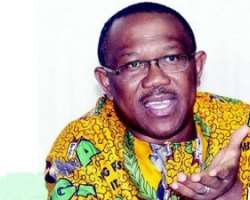 Gov. Peter Obi of Anambra said in Awka on Friday that one major challenge facing the Nigerian society was the issue of insults to people in leadership positions and disloyalty.
Speaking at the closing ceremony of the inaugural retreat organised for local government chairmen and councillors in the state, Obi said people who took delight in attacking the personality of President Goodluck Jonathan were invariably hurting the feelings of Nigerians.
"Some think that they are hurting the personality of President Goodluck Jonathan but their action is in essence hurting Nigerians,' Obi said.
He urged the council chairmen and councillors to partner and support the state government and think of the people as executive people in their capacity.
Earlier in his address of welcome, the chairman of the occasion, retired Justice Godwin Ononiba, said the seminar was designed to sensitise the chairmen and councillors on the right values for service.
"You are reminded that you are now addressed as honourables and you must therefore understand that it means good name, reputation and nobleness of mind,' Ononiba said.
In a lecture entitled "The Local Government Chairman as a Gardner: Lessons in Leadership," Dr Okey Ikechukwu, the Chairman of Anambra Rebirth Organisation, charged the officials to maintain political loyalty.
"You must retain you natural habit by not allowing your new office to ruin your health, relationship with the people and God.
"You must explore the value of excellence and remember that you are not in office to serve yourself,' Ikechukwu said.
Prof. Ben Osisioma of Nnamdi Azikiwe University, Awka, in his lecture entitled "Challenges of Good Governance in the Face of Wrong Public Expectations,' equally charged the officials to bring values and leadership qualities.
"We need leaders who will unleash the creativity of our people and build on their strength; eschew religious bigotry and ensure equity and fairness at all times,' the professor of accountancy said.
Other lectures given at the retreat included "Good polling as pre-condition for Good Governance', 'Custodian Role of Local Government Chairmen" and "Values-based Leadership for People-centred Development'.