No plans to stop HIV/AIDS funds in Nigeria – US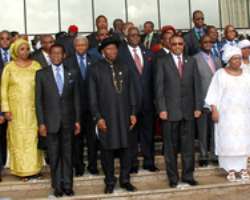 The U.S. on Thursday said it had no intention to withdraw an estimated 500 million dollar new funding for HIV and AIDS programme in Nigeria following the law criminalising same-sex relationships in the country.
Mr James Entwistle, the U.S.  Ambassador to Nigeria, gave the indication in Abuja during the public viewing of a new drama series entitled "Shuga'', which depicts HIV issues in Nigeria.
Entwistle described as untrue earlier media reports credited to him that U.S. would halt funding on HIV and AIDS in Nigeria because of the harsh law on homosexual relationships.
"Some of the report said I said on Monday that because of the bill, United States was going to cut back or eliminate its support for HIV and AIDS programming in this country.
"This is not the case, we have neither the desire nor the intent to do that.
"Let me be clear, our commitment, our pledge to supporting the HIV and AIDS fight in this country is unwavering.
"What I did say was that we and I imagine all HIV/AIDS donors will watch carefully to see how the bill is implemented and enforced with an eye towards its potential effect on HIV programmes here.
"I wanted to make it absolutely clear that our commitment on HIV and AIDS in this country, United States isn't going anywhere.''
Entwistle said that in the last 10 years the U.S. had spent more than 3.4 billion dollars on HIV and AIDS in Nigeria adding that in 2014 the Obama administration would contribute over 500 billion dollars to HIV and AIDS in Nigeria.
"Over the past 10 years,  U.S. has committed and spent over 3.4 billion U.S dollars on HIV and AIDs programmes here in Nigeria, this year we will spend close to half a billion U.S. dollars.''
He advised Nigeria government not to relent in its commitment to reduce the prevalence of HIV cases in the country.
In his speech, the Minister of Health, Prof. Onyebuchi Chukwu, said that HIV prevention was the best way to fight the disease.
"We have insisted that treatment is important but prevention is certainly better.
"And this is just one of the newer media that people are beginning to explore in terms of health education.''
Also, Prof. John Idoko, the Director-General, National Agency for the Control of AIDS  (NACA), said the national survey showed HIV prevalence of three per cent among young people aged 15 years to 19 years.
He also said it was up to 5.4 per cent among 25 year to 29-year olds.
Idoko said those aged up to 34 years had even higher HIV prevalence in the country.
He added that the survey also showed that HIV prevalence among general population which was put at 3.6 per cent in 2007 had declined to 3.4 per cent in 2012.
He said the issue of proper health information for the young people was low adding that even when they knew, they still would want to experiment it.
Idoko said Shuga would showcase what the young people needed to know about HIV and AIDS, gender, inequality and many others.
He said Shuga was an award winning sex and relationships drama and multimedia campaign designed to combat a lack of awareness and misinformation about HIV, sexual responsibility and teen pregnancy among the youth.
The eight-episode Shuga, screened with support from National Agency for AIDS Control (NACA), is expected to morph into radio serial and online tie-ins.
Others are social media and pop music while a constant message of prevention and life after the virus are heavily woven into its plot.