Governor Orji Optimistic Mu'azu Will Perform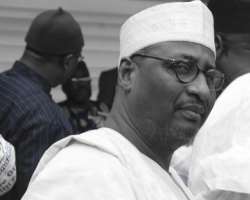 Governor Theodore Orji of Abia state says it is his belief that the new national chairman of the PDP, Adamu Muazu will work towards re-engineering and reinvigorating the party.
The governor was speaking at the government house, Umuahia, while answering questions from newsmen on his return from the PDP National Executive council meeting held in Abuja.
He said the preoccupation of the new chairman should be to do those things that will make the party win elections and bring all those who defected from the party to return ahead of the 2015 election.
"His area of priority should be to re-engineer the party so that the party remains first among equals for the party to win elections because that is the ultimate goal of every political party and to bring back our colleagues which is part of winning elections. Those things remain his priority,"he said.
The governor who commended the party for a smooth transition in leadership stated that change is inevitable in the party with the new hands that are at the party's helm of affairs.
According to chief TA Orji, there are moves by the party to reach out to those who left PDP for other parties including some state governors with a view to reconciling them and called on PDP members to remain steadfast in the party. Of course, they are being reached out to.
The new PDP chairman has said that he will make his own efforts.The governors are making their own own efforts and individuals are equally making their own efforts to reach them for reconciliation".
He did not agree that the frequent change in leadership of the party will affect the image of the party arguing that the party aims for the best."The major thing we want is change.Change is inevitable.We'll continue changing until we get what we want."