CEO Ibari Ogwa Village, Chukwudi Ofoha Sets To Bury Mother On Jan. 30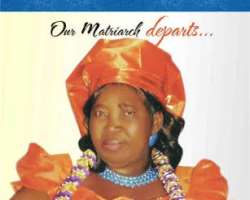 Come January 30th 2014, the country home of the Chief Executive Officer of Ibari Ogwa Village, entertainment Czar and show-host, Chukwudi Ofoha will be awaked by a heavy traffic flow of vehicles and guests, who would be thronging to pay last respect to his mother as she gets interred to mother earth.
Died at the age of 55 on December 8, 2013, late Ezinne Edith Ofoha (Nee Ezewuike) was a dedicated Christian mother, and a strong woman leader in the community where she is married to her husband, Mr. Samuel Ofoha in Umuezealakpa, Alaeze-Ogwa autonomous community, Mbaitoli L.G.A, Imo state.
According to a release signed and made available to the general public by the son, Chukwudi Ofoha at the weekend said her remains would be interred in his country home in Umuezealakpa on Thursday, January 30, 2014 after a funeral service at her residence.
Meanwhile, as part of the activities scheduled before the interment date, the release informed that there would be service of songs at her compound on January 29, 2014.