Yemi Sax Talks About His Marriage And How Is Not Scared Of Divorce…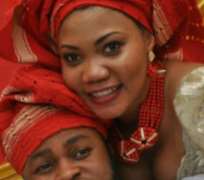 Yemi Sax is the greatest and the most successful saxophonist Nigeria has ever produced. He rose to fame by sampling singing songs off some major hit albums earlier in his career. He is the only one that was allowed to do this. He took his chances and he became better for it. Yemi sax born Yemi Adeosun, told friends few hours ago his reasons for entering into marriage against the popular reasons.
He says "The thing is that, a lot of people get into marriage because they want to be married and because they feel if people get to find out that they are married they see them as responsible people. Before I got married to my wife we have been best of friends even till now she is still my best friend. Sometimes we forget that we are married and we still play our normal play. I think for you to have a successful marriage it is all about understanding and marrying the right person". When asked about the many celebrity divorce whether he is scared of divorce, he says "No, not at all. I have nothing to be scared about by the grace of God it will always last".
Yemi started his career in 2005 and since then, things has been good for him. He is married to Sholatayo Adeosun and the couple welcome their first tot towards the end of last year. Let's hope his marriage doesn't go the other celebrities' way with how he perceives the union…
-Aproko City
Click the link below to go to...
"We Are Enjoying Our Singleness" – Genevieve Nnaji, Rita Dominic
Producers Hate Me Because I Don't Allow Them Sleep With Upcoming Actresses—Emeka Ike
Nollywood Actor Nme Bishop Umoh Finally Has Tied The Knot [Pictures]
Ini Edo, Emem Isong, Monalisa Chinda, Others To Storm Uyo For Bishop Umoh's Wedding
Psquare Reveal Tips On How They Got To The Top
Wizkid Disrespects Womanhood, Grabs An Essential Part Of Them
Susan Peters Calls Desmond Eliot's Beards 'Boko Haram'
African China, A serial Polygamist, Has 168 Kids From Different Women!