Ashanti Gets Sexier For A True Come-Back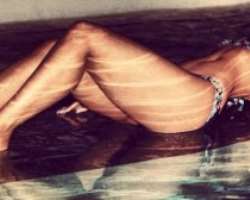 Written Entertainment CEO, Ashanti is seriously getting back to work. With a stunning new video, I Got It, with Rick Ross, still to be released and a BraveHeart forthcoming album; Now, she is posing it up in a pool overlooking the ocean for a photo shoot which she later shoved it on Instagram.
Ashanti dazzled in some hot printed bikini by the sea side rocking her novel definite figure. Maybe we've never seen the music star so hot, but its obvious the singer is re-branding for a better course and looking good is best business.
As the world waits impatiently for her new project to drop, the sexy star has been offering fans a pretty little tease with pictures of her banging bikini bod and she wrote:
'There's just something about a woman who's comfortable in her own skin #braveheart2014#igotit#miaminights!'