Beyoncé & Jay Z Could Be Opening The Grammys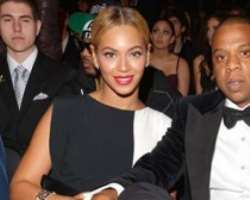 Beyonce and Jay Z could become the game changers for this year's Grammy Awards. Both super stars are likely to open up the music ceremony on Sunday January 26. There are still no confirmations yet but with Drake turning down the offer due to his busy tour schedule, this could become Grammys' bravest decision.
According to Kontrol Magazine, who first broke the news [rumor], 'the Grammy organization and The Staples Centre are working hard to keep a tight lid on Jay Z and Beyonce's huge opening surprise.'
This report comes after rumors began to swirl last week that the 'Drunk In Love' singer would be bringing a piece of her 'Mrs. Carter Show World Tour' to the Grammys come Sunday. So if this comes true, then this is one hell of a better reason why fans need to attend or watch the 56th Annual Grammy Awards.
According to NecholeBitchie, 'a TV spot (which has been removed from the web), shows that both Beyoncé and Jay Z will be performing at the LL Cool J-hosted event, and even better, they will be performing within the first hour of the live telecast! There's no confirmation on who will open the show, but given the mega-success of Bey's surprise self-titled visual album, there's no doubt she will probably be the first act of the night.'
Jay Z is nominated for nine awards, by the way and the Grammys air live on Sunday, January 26th at 8:00pm EST.