O God, Save The Soul Of Imo State!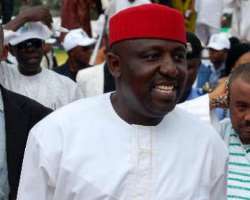 In the word of Heraclitus of Ephesus, "you could not discover the frontiers of soul, even if you traveled every road to do so, such is the depth of its meaning." For Ralph Waldo Emerson, "The philosophy of six thousand years has not searched the chambers and magazines of the soul".
The soul is a sacred entity whose vibration may be in tandem with the primordial essence of life hence it survives many akashic huddles in the subjective system of existence. No wonder the Greek philosophers identified soul with the life principle itself, and again, the source and motivation of movement. What moves life.
For Aristotle, we learn from a passage from De Anima, soul was the "essential whatness or essential character". Since the possession of knowledge must precede its exercise, the soul may be defined as the initial actuality of a natural body endowed with the capacity of life. This definition of soul is applicable to whatever body possesses organs. The term organs, is here extended to include the parts of plants, for these, in spite of their rudimentary structure, exhibit certain analogies to animal organs.
In a little way, we have stated what the soul is. It is the "essential whatness (ousia) of a thing in the sense of its definitive meaning (logos), the essential and enduring character" (ti en enai) of a body possessing the capacity of life.
At this point, I wish to save myself the myths and philosophical fables that are associated with soul and consequently proceed to making my point as it relates to the life wire of our noble state Imo. The soul of Imo has been in the prison for a long time since May 2011. I knew that a hawk was chasing the little hen the moment Gov. Rochas okorocha decleared his interest to run for the gubber race in 2011. As a matter of fact, I started my crusade with my pen against him in view of many frauds that followed him in the past. Imo people thought it was a joke, but I meant everything I have written about this administration. I love Chief Rochas Okorocha but hate his method of administration because he lacks administrative dexterity.
He came with a target aimed at destroying the monumental identity of Imo State. The soul of Imo is almost dead and if anybody does nothing about the present soul of Imo state, in the next two three years Imo state will be in the Guinness book of record as a failed state ruled by an inexperienced Governor. The soul of Imo state is already in hell-fire while our governor is busy chasing rats. What amazes me and many other sound minds is that Gov. Rochas has refused to see reason that he is not doing well at all.
The monthly federal allocation of about N5 to N6 Billion coming into Imo state is not accounted for with life transforming projects at all. It is in this administration that great projects that are yet to take off have received 40% off front payment yet we do not know the account were these monies were paid into. No accountability at all, yet Okorocha is very mouthy about his various achievements. I was shocked when Gov. Rochas alleged that opposition in Imo state wants him out simply because he is not sharing our federal allocation money at Abuja with some godfathers. He may not be sharing the money as he claimed but the issue here is that Gov. Rochas is busy sharing the money with his brothers, in laws, few friends and allies.
Who shall save the soul of Imo state? Dishonesty and duplicity speak volume in this administration. The youths are roaming about with their certificates without any job, the only way Gov. Rochas has empowered them is to build BONGO square to enable the Imo youths dance off their jobless stricken sorrow. What has Bongo (music) square got to do with providing jobs for Imo youths? I feel too much sorrow in my heart the way this present administration is treating the youths it shows that the future of this nation cannot be traced to Ogboko village, so chief Rochas should either forget 2015 or resolve to run for Ideato Local Government chairmanship position and I assure him that he will fail because he is dancing naked in the market without his knowing it.
If the world, (Imo state in particular) wants to see an era of harmony and well-being in the future, it must lookout for the present day youths. Okorocha is still deceiving Imo people with his free education philosophy thinking that we are unaware of his games- yes he is dancing naked without his true knowledge of same, otherwise how could he explain the high rate of extortion going on in the name of free education in Imo state.
We all know that the federal government is funding education from primary 1 to JSS 3. Today, Rochas is telling us that our secondary school students at SS1 to SS3 are on free education. This is very repulsive! I challenge Okorocha to tell Imo people the truth about this charade and hog-wash called FREE-EDUCATION. I am not talking of the mamount lies that his free-education is extended to tertiary institutions in Imo state. It is a lie! We are all seeing how all students in our tertiary institutions are enjoying the rescue mission free education package. It takes an educated soul to know that education is not free anywhere in the world. But an uneducated mind does not know that the Chinese who gave tea to the world never drank it with sugar.
Despite Gov. Okorocha's orchestrated (pay loading) free education, the state government still collect money from school children. I have been saying this and many never believed me. Only few days ago, a friend of mine, Dr Vitalis Orikeze Ajumbe the national publicity secretary of PPA disclosed his experience when he was asked to pay #1500 to the ministry 0f education before he could secure admission for his maid at Ikenegbu Girls Secondary School. He also informed the press that the school principal collected the sum of #3000 from him and finally forced him to pay another #8000 for what they call "Rochas Book".
From the above, Dr Ajumbe paid the total sum of #12,500 to get her maid admitted. There is no doubt that if people at urban areas are forced to pay this amount of money, who knows what the rural people are passing through in the name of free education. Okorocha is deceiving Imo people and it will only take God's intervention to deliver Imo state from his ugly administration.
Students may be tasked to pay for Rochas ruler, Rochas pen, Rochas water, Rochas math set, Rochas desk, Rochas pencil, Rochas English, Rochas mathematics, Rochas school cloth, Rochas air, Rochas this and that to make ends meet. This is madness! And nobody will complain because we have Idi Amin or Adolf Hitler as governor. I make bold to ask Gov. Okorocha, is this, the reality of free-education? Where have you left your conscience? No greater cheats are there anywhere than for a man to consider himself so special or chosen by God to deal with Imo monthly allocation as his personal money while pretending to be the harbinger of scholarship. I must speak out! Our Governor God is watching you. O God save the soul of Imo state.
Nathan Protus Uzorma
Disclaimer:

"The views/contents expressed in this article are the sole responsibility of the author(s) and do not necessarily reflect those of The Nigerian Voice. The Nigerian Voice will not be responsible or liable for any inaccurate or incorrect statements contained in this article."
Articles by Nathan Protus Uzorma