APC Swallows PPA And PDM In Rivers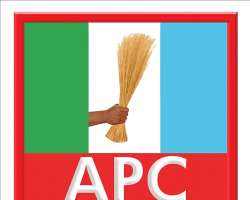 It was an emotional reunion yesterday (18th January, 2014) when Dr. Ibiamu Davies Ikanya, Interim Chairman of the All Progressives Congress (APC) in Rivers State, received and accepted into the APC fold, leaders and members of Princewill Political Associates (PPA) and the Rivers State chapter of the Peoples Democratic Movement (PDM). Dr Ikanya was erstwhile State Chairman of PPA and the Rivers State Steering Committee Chairman of PDM before his appointment as the Interim Rivers State Chairman of APC.
The carnival-like ceremony held at the State Secretariat of APC situated along Forces Avenue, old GRA, Port Harcourt, marked the formal end and collapsing of PPA and Rivers PDM structures into the APC.
Hon. Ugo Chinnah, an astute politician and a grass-root mobiliser, erstwhile Deputy Chairman and Director of Logistics of PPA and State Chairman, Membership Revalidation of PDM, led the 23 Local Government Chairmen of PDM and PPA and other key members of the State Excos of the two organistaions to the ceremony. The delegation included Chief Eze Chukwuemeka Eze, erstwhile Director of Media and Publicity of PPA and PDM; Comrade VisionPaul Thankgod Aluchi, Deputy Director of Youths; Chief Williams Ikhile, Director of Mobilisation; Donatus Ordu, Director of Finance; Comrade Chapp Jumbo, Director Of Research, Chief Uchenna Okokoba, Director of Non Indigenes and Chinedu Grant-Amadi, the Deputy Woman Leader.
Conspicuously absent from this historical event were Dr. (Mrs.) Edith Wele, the Women Leader, due to ill-health, and Barr. Osima Ginah, former Secretary General of PPA and PDM, who is now a leading light in GDI, the political machinery of Chief Nyesom Wike, the Supervising Minister of Education.
Hon. Chinnah, who wept profusely during the event, stated in his remarks: "I am crying not because of anything but the fact that Prince Tonye Princewill ought to be the one to lead this visit knowing how close he is with Gov Amaechi but instead he is found to be associating with PDP that has demonstrated its disdain against Rivers State and her people and now working with people who no longer enjoy the confidence of the people of Rivers State." Hon. Chinnah congratulated Dr. Ikanya for taking the mantle of leadership to spearhead the revolution that will change the course of Rivers State politics forever. He concluded his remarks by condemning the evil that CP joseph Mbu has constituted himself since arriving the State and asked for his immediate redeployment as a matter of urgency.
Dr. Ikanya in his address thanked Hon. Chinnah and all the stakeholders and members of PDM and PPA for taking the bold step of identifying with the political aspirations of Rivers State and her people at this period that PDP politicians are playing politics inimical to the development of our dear State. He assured the decampees that they would be treated as joint founders of APC in Rivers State. "None of you should be intimidated by anybody or group as APC is big enough to accommodate anybody or group". He described today as historical and the end of opposition in Rivers State knowing the vibrancy the PPA and PDM will bring into APC in Rivers State.
Chief Ikanya expressed displeasure over Prince Tonye Princewill working with PDP politicians that have sworn to make Rivers State ungovernable and promised "to work with Chief Eze, a trusted ally of the Prince, and Hon. Chinna to ensure that Prince Tonye Princewill joins us as soon as possible as PDP is already dead in Rivers State unless he wants to end his blossom political career in the country with a visionless group"
Dr Ikanya further stated that Gov Chibuike Rotimi Amaechi did not inveigle or forced him into joining APC or neither did he cajole Chief Eze or any of us into APC as we are of age to know what is good for our people contrary to some insinuations in some quarters that Gov Amaechi forced us into APC but we were influenced by the wickedness, visionless and undemocratic plots of the current PDP Leadership in the country and decided to join APC to correct the evil that PDP portends for our country.
Princewill Political Associates (PPA) was a very vibrant political force in Rivers State founded by the political associates of one of the most colourful politicians from the Niger Delta region, Prince Tonye Princewill, and headed by Dr Davies. Ikanya from inception. Princewill, commonly addressed by his supporters as the Prince of Niger Delta Politics, is a scion of the Amanyanabo Kalabari Kingdom in Rivers State.
PPA is the brain and backbone of PDM in the Niger Delta region. In recognition of the contribution and relevance of the group, Gov. Chibuike Rotimi Amaechi appointed Prince Tonye Princewill as the youngest member of the Rivers State Economic and Advisory Committee headed by Prof Nimi Briggs with other great minds from Rivers State as members. Governor Amaechi also influenced his membership of the Presidential Technical Committee on Niger Delta. In addition, Governor Amaechi against all odds and to the chagrin of his kitchen cabinet nominated two members of PPA (Dr. Ibiamu Davies Ikanya as Commissioner in charge of Special Duties and Barr. Osima Ginah as Commissioner of Urban Development) into his cabinet and Chief Williams Igweh, the deputy governorship candidate to Prince Tonye Princewill during the 2007 polls, as Senior Adviser on Political Parties Inter-relationship during his first tenure.
With this development coupled with the formal death of PDP in Rivers State, APC is now posed to rule Rivers State till 2019!
Long Life APC!
Long Life Rivers State!!
Chief Eze Chukwuemeka Eze,
SSA Media and Public Affairs to the Interim State Chairman, APC Rivers State
19-01-14