Kim Kardashian's wedding dress: Fantasy designer kketches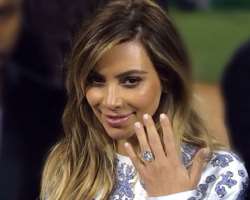 We asked some of our favorite wedding dress designers to draw their dream gowns for Kimye's big day.
Ever since the news broke that Kanye West proposed to Kim Kardashian, we've been anxiously awaiting details about the pair's pending nuptials. We know the celebrity couple's wedding will be nothing short of extravagant. After all, West rented out an entire baseball stadium to pop the question and presented the reality star with a blinding 15-carat cushion-cut diamond engagement ring. So far, we know that Kim is relinquishing all wedding planning control to her future hubby, and she will also be taking West's last name. Beyond those details, we've been left to our own devices when it comes to dreaming up the future celebrity-filled blowout.
Aside from the when and where, the most anticipated Kimye wedding detail is Kim Kardashian's wedding dress. While she donned not one, not two, but three glamorous Vera Wang dresses for her last go-round, we know Kanye will have a huge say in her wedding-day styling. (He's been known to take the reins when it comes to Kim's closet). And since the reality star's previous wedding style was princess-perfect, we have a hunch that this time she'll be looking for a gown that's edgier and more avant-garde.
In an effort to satiate our hunger for fashion details, we reached out to some of our favorite wedding dress designers for their fantasy take on Kim Kardashian's gown. From heavily embellished mermaid silhouettes to seductive, plunging necklines to high-volume trains, bridal designers including Reem Acra, Rivini, and Ines Di Santo dreamed up gorgeous gowns for the bride-to-be. Here, our 11 favorite fantasy gowns for the future Mrs. Kim Kardashian West.
Photo: Jonathan Cheban via Instagram