National Conference: The Patriots writes Jonathan, demands representation by ethnic groups, brand new constitution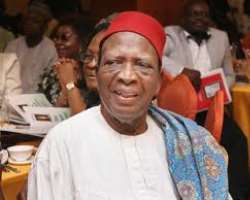 The patriots, a group of elder statesmen, led Professor Ben Nwabueze has rejected the model of conference recommended by the National Conference Advisory Committee.
While the advisory committee recommended a representation on the basis of federal constituency of local government area, the Patriots insists that any such effort at national dialogue that do not take into account ethnic nationalities would end up a wasted effort.
The Patriots' position is contained in their letter to President Goodluck notifying him of the areas they have misgivings.
The Patriot, in the letter signed by its Chairman, Prof Ben Nwabueze, a leading constitutional lawyer,  expressed disappointment in the recommendation of the advisory committee that it would be left for the conference itself to determine how to integrate the recommendations of the conference into the constitution.
By inference, the group said that it means that the constitution still exists by then.
What it wants rather is a national dialogue that would result in a brand new constitution to be subjected to a referendum.
'The Patriots' position is encapsulated in paragraph 6 to 8 of its letter to Jonathan, which reads:
6. The Conference recommended in the Committee's Report, which we have now carefully read, is one totally different, in its object or purpose, from that envisaged in our Memorandum and oral presentation to you, as set out above. We view it as, not only a complete departure from the fundamental attributes of the type of National Conference we envisaged, but also as a complete betrayal of our expectations and aspirations for a National Conference. Reading the Report has created in us a deep feeling of disappointment, disillusion and frustration.
7. Nowhere in its 68-page Report did the Committee affirmatively recommend that the adoption of a new Constitution for Nigeria is the primal purpose or object of the Conference or that a new Constitution so adopted shall be submitted to the people in a referendum for approval. Its recommendation on this all-important issue is to advise that it be left to the National Conference itself to decide the 'legal procedures and options for integrating the decisions and outcomes of its deliberations into the Constitution and the Laws of the nation.' This assumes the continued existence of the 1999 Constitution. The adoption by the Conference of a new Constitution to be thereafter submitted to the people in a referendum for approval is thus ruled out as a concern of the Conference.
8. As if what is said in paragraph 7 above is not frustrating enough, under the system recommended by the Committee, the unit of representation at the Conference is the individual Nigerian as an autonomous entity, not the individual as a member of an ethnic nationality; the choice of delegates is by direct election based on universal adult suffrage; the representation is for a federal constituency, as delimited by the Independent National Electoral Commission (INEC), not for the ethnic nationalities comprised within the federal constituency. In the result, the ethnic nationalities are completely relegated and sidelined, although, according to the Committee in paragraph 5. 11 of its Report, the ethnic nationalities may be one of the interest groups to be asked to nominate a few delegates to the Conference. The Conference is thus clearly not a Conference of ethnic nationalities, as envisaged in the Memorandum submitted to you by The Patriots. In order not to leave the matter in any doubt, the Committee emphatically affirmed in paragraph 5.13 of its Report that 'the National Conference and its associated processes shall be owned and driven by the Nigerian people.' It is hoped that this emphatic statement is not meant to imply or suggest that the ethnic nationalities and their members are less a part of the 'Nigerian people' than the autonomous individual Nigerians.'