Tax: Lagos prosecuting 12 lawyers, 48 eminent citizens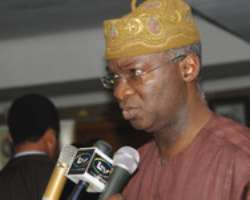 Lagos State government, yesterday, said it has commenced prosecution of about 60 tax defaulters in the state which include unnamed eminent citizens.
Meanwhile, Governor Babatunde Fashola of Lagos State  said 70 per cent of the state budget of N489.69 billion would be funded through taxation.
This came four days after the governor signed the budget for the current year into law.
He made the disclosures at the seventh Lagos State annual stakeholders' forum in Ikeja, which had in attendance the former Secretary General of the Commonwealth, Chief Emeka Anyaoku, former Minister of Industry, Mrs. Nike Akande and others.
Fashola said that all the advanced countries recognised that payment of taxes is the first step to prosperity.
According to him: 'This year, the budget is N489.69 billion and about 70 per cent of that is now been funded by the people of Lagos.'
He said: 'Today, we are beginning to see dwindling resources to states. Four hundred barrels of crude oil is beginning to disappear. In the morning, we will hear that $49 billion has not been accounted for. In the evening, they (Federal Government) will say that it was only $12 billion. It is bad enough to look for $1 of public fund.'
'The resources to the states are dwindling. Some states are borrowing to pay salaries, but Lagos continues to pay salaries without borrowing.
'The achievement we have made in Lagos may not be clear to many of us. In 1999, the budget of Lagos was N14 billion. And that time, the Internal Generated Revenue, IGR, of the state was 600 million. Last year, Lagos budgeted 507 billion. And the IGR has increased since then.
'All the firsts scored by the state belong to the people. Noting is happening now that is different from what happened in the old Western Region during the time of late Chief Obafemi Awolowo. That government achieved a lot because people paid their taxes.
'That is the independence that the people of Lagos have gained by taking their destiny in their hands.

Defaulters
'Despite the compliance in tax by the people of Lagos, we must now begin to look at ways to make tax more efficient to pay and collect,' he said.
Speaking earlier, the Chairman of the Lagos State Internal Revenue Service, LIRS, Babatunde Fowler vowed that the state government would not spare any individual or corporate organisation that fails to remit personal income tax of its employees or other taxes.
He disclosed that among 60 key tax defaulters in the state are 12 legal practitioners, a medical practitioner, a sports personality and 46 others.
Fowler noted that in few weeks, the names of the tax defaulters would be published to serve as a warning to others.
Speaking earlier, the former Minister for Commerce and Iindustry, Mrs. Nike Akande, who delivered a lecture entitled 'Women and Tax,' noted that larger percentage of women in the country are not captured in the tax net. Vanguard