Keshi primes Super Eagles for a win over Bafana Bafana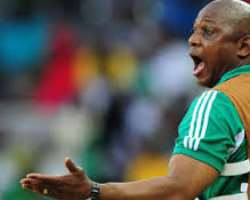 Super Eagles coach Stephen Keshi has fired a warning at Bafana Bafana of South Africa claiming Nigeria are getting stronger with each game they play at the 2014 African Nations Championship tournament.
"I prime my work on the mental aspect, which I do all the time – more tactical, positional play, because they need to understand the system," Keshi said.
"I'm so happy with the players because they are getting it quickly, so I think we will get better and better as the tournament goes on."
The Nigerians began their campaign with a 1-0 loss to Mali and were then given a fright by an adventurous Mozambique side before winning 4-2 on Wednesday night.
The victory sets up a tantalising final Group A match with South Africa on Sunday. Nigeria must win the game to ensure they make the quarterfinals, while a draw would be enough for Bafana Bafana to go through.
Coming into the tournament, Keshi had relatively little time to work with a squad made up of domestic players from the Nigerian league, most of them with very little international experience.
It showed as a disjointed performance resulted in defeat to West African neighbours Mali. It was, however, a far more clinical and composed Super Eagles which scored two goals without return in the second half of the Mozambique match after it was 2-2 at half-time.
Keshi's biggest challenge has been to awaken his players from what would normally be a mid-season slumber period, the Nigerian Premier League having been in recess for the last few months. But he feels they are ready to fire on all cylinders against Bafana on Sunday.