Nigeria, India bilateral trade volume hits $16.67bn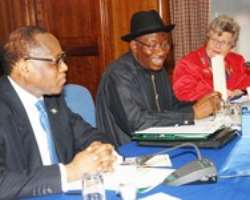 The First Secretary in High Commission of India in Lagos, Mrs Rani Malick, on Thursday said that trade volume between India and Nigeria reached 16.67 billion dollars (N2.7 trillion) in 2013.
Malick disclosed this at the opening ceremony of a three-day "Indian Products and Services Exhibition' held at the Commission's office in Victoria Island, Lagos.
The first secretary said that the trade relation between the two countries was favourable to Nigeria.
"India has long been Nigeria's privileged business partner in various sectors and our engagement is expanding by the day.
"India is today Nigeria's largest trading partner.
"During the past few years, bilateral trade has doubled and Indian exports to Nigeria have tripled.
"Today, Nigeria is India's largest trading partner in Africa with 16.67 billion dollars in direct bilateral trade in 2013,'' she said.
Malick said that there were over 100 Indian companies with cumulative investments as well as creating jobs in Nigeria.
She, however, said that both countries had yet to adequately harness the bilateral trade potential.
The first secretary said that the exhibition was organised to showcase some leading products in Nigeria and promote its country's small and medium businesses.
Dr Justus Itsueli, the President, Nigeria-India Chamber of Commerce and Industry (NICCI), said that the exhibition would sustain interaction among Nigeria and India businessmen and women.
"We look forward to more Nigeria-India bilateral relations in the years ahead.
"We also look forward to many of such exhibitions.
" As we all know, India is well ahead of Nigeria and we need to strengthen our bilateral trade relations,'' Itsueli said.