BEHOLD THE SHOW STOPPERS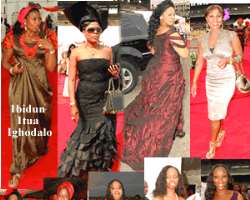 Behold the show-stoppers
By Agatha Emeadi
Friday, March 12, 2010
They are show stoppers in their various ways. Look out for them at any event, especially parties, check them out in breathtaking designer clothes. They look real good. They display an array of trendy glamour that you must notice. Some step out in the conventional Iro and buba, complimented with scarf called gele and matching shoes and bag.
From long flowing lion frocks, to beautifully designed African fabrics, to the trendy well made English suits, all came to town to play. You wonder, is there a fashion competion among these women.?
Accessories are not played down at all.Though they are no longer compulsory for all, but stylish women who want to stand out wear neck piece that turn heads.
They are the style icons of our time. The entirety of style envelops them at events. Like bees hover around honey comb, that is how their perfumes, scents and fragrances hover in the air.