Breaking News: Aliko Dangote Sacked as NSE President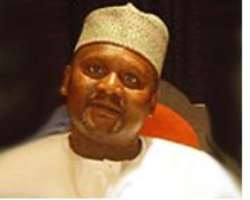 Huhuonline.com understands that the federal High court in Lagos has nullified the election of Aliko Dangote as president of the Nigerian stock exchange, following the application made to the court by some shareholders of African Petroleum Plc. The AP shareholders had sued Mr. Dangote, Nova Finance and Securities Limited, NSE and others over alleged massive manipulation of AP shares
As Huhuonline.com previously reported, when a man with a big question mark hanging over his morally-deficient, corruption-bedecked neck is chaperoned to the topflight throne, it will take the greatest miracle after the resurrection of Jesus Christ to get the NSE back on track. The fact that Dangote; a prime suspect in the share manipulation scam involving African Petroleum (AP) Plc stock prices of Femi Otedola is now the man who will be calling the shots at the NSE, proves, in the words of an NSE source that: "Nigeria's capacity to shock and scandalize is infinite."
Recall that it was intrigues and manoeuvre galore marked by intimidation, blackmail and shady financial dealings that saw billionaire business magnate, Alhaji Aliko Dangote emerge as the 17th president of the Council of Nigerian Stock Exchange (NSE) through what was said to have been a unanimous voice vote.
Huhuonline.com learnt that Dangote arm-twisted and bribed his way to the NSE presidency, dishing out as much as N3 million to each NSE Council members who subsequently "elected" him by acclamation.
Aliko ascension to NSE presidency,huhuonline.com learnt triggered a race to the bottom as more savvy institutional investors re-channelled their funds to the 'safety' of government securities, treasury bonds and real estate.
Last year, when Dangote muzzled his way to NSE presidency, Huhuonline.com reported that the choice of Dangote does not inspire investor confidence as he owns six companies (Dan sugar, Dan salt, Dan Flour, Benue Cement, Chevron Texaco), which are listed on the stock exchange. What will eventually happen when Dangote becomes privy to insider information about the stock prices of his companies can be anyone's guess. But this apparent conflict of interest has created a propitious scenario for insider trading and share price manipulations.
|
Article source