Conference Of Nigerian Political Parties: 'Anambra Council Election Perfect'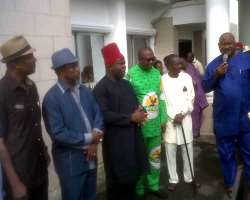 The Conference of Nigerian Political Parties – CNPP Anambra State Chapter, has endorsed the just concluded Local Government election in twenty Local Government Councils as transparent, free and fair. Briefing journalists in Awka after its executive meeting, the body extolled Governor Obi for his giant strides in conducting the election after sixteen years.
Presenting the stand of the Association, the State Chairperson, Mrs. Oby Okafor expressed satisfaction that unlike Local Government elections conducted in other States, ANSIEC provided a level playing ground and conducted free, fair and credible election which other political parties secured victory in various parts of the State, unlike in others States where ruling parties won all the posts.
The Association enjoined candidates of other political parties to use their positions in the Council to promote healthy debate and inputs that would help entrench good governance, while urging the Council Chairman to be fair and just to achieve the goals of distributing democracy dividends to the people.
It called on aggrieved political parties and individuals who nurse reservation on the exercise to tow the line of civility and channel their grievances to appropriate quarters to maintain peace and stability.
The Body called on ANSIEC to make sure that the rescheduled Nnewi North Council election that was declared inconclusive would be transparent, free and fair.
Introducing the parley earlier, the State Secretary of CNPP, Sir Peter Okala, said that by the conduct of the election after 16 years, that Gov. Obi had broken another jinx.