Jonathan in Eid-el-Maulud message, assures on timely completion of projects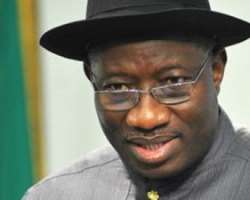 President Goodluck Ebele Jonathan greets all Nigerians of the Islamic Faith as they commemorate the birth of the Prophet Mohammed, the Messenger of Almighty Allah.
As Muslims in the country join believers in other parts of the world in celebrating the Prophet's birth, President Jonathan urges them to offer special prayers during the Eid-el-Maulud for greater peace, unity and progress in Nigeria.
Also, as this year's Eid-el-Maulud fortuitously comes just a day before the nation's Armed Forces Remembrance Day, President Jonathan urges all Nigerians, Muslims and non-Muslims alike, to seize the opportunity of the Eid to offer special prayers as well for officers and men of the Nigerian Armed Forces who continue to do their best to protect the nation's territorial integrity and achieve greater security in all parts of the country.
Against the background of the increasing tempo of political activities in the country, as individuals, groups and parties jostle for vantage positions in the countdown to next year's general elections, President Jonathan assures all Nigerians that his administration will not be distracted from working diligently to bring all of its priority developmental programmes and projects to a successful conclusion.
The President also assures the nation that his administration will continue to act on its belief that only free, fair and credible elections can make democracy in Nigeria truly meaningful and useful as a vehicle for development and progress by working with the Independent National Electoral Commission (INEC) and all stakeholders to make the best possible preparations for the next elections.
President Jonathan will continue to count on the support and prayers of patriotic Nigerians for the success of his administration's efforts to move the nation faster along the path to greater peace, unity, progress and prosperity.
The President believes that a greater internalization of the virtues of honesty, selflessness, charity, tolerance, good neighbourliness, justice, equity and fairness which the Prophet preached and exemplified will be of immense benefit to the nation in this regard.
He therefore urges all Nigerians to commit themselves to making a greater effort to imbibe these qualities and values as they celebrate the Prophet's birth.
The President wishes all Nigerians a happy Eid-el-Maulud.