ONIGBINDE BRANDS NFF TECHNICAL DEPARTMENT FAKE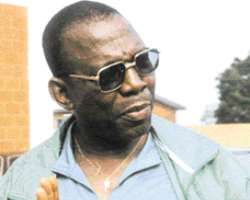 Onigbinde brands NFF/ technical department fake
… Advocates developmental football
By Idu Jude, Abuja
Friday, March 12, 2010
Super Eagles' former chief coach, Chief Adegboyega Onigbinde, has lambasted the management of the Nigeria Football Federation (NFF) and its technical committee on its inability to provide him with a document to back up his appointment as a technical consultant as was pronounced since the present NFF administration assumed office.
Chief Onigbinde, who gave the stricture at the coaching seminar organized by the NFF which came to an end in Abuja yesterday, told the football governing body in anger that enough was enough on its display of incompetency being withnessed at the so called technical department of the NFF.
"I don't bloody care if you fail to invite me next time you organize seminars, the truth, however, must be told'.
The FIFA technical committee member stressed that what is likely to be seen in the football house is a technical committee, not a technical department as is claimed by NFF. " What you have is a technical committee not a technical department. Not untill you have one, where technical maters are being recorded and dealt with, you have not started".
In his expression of displeasure on the maltreatment of coaches in Nigeria, he asserted that as an old man that the NFF should not hasitate to present to him a legal document to back up his appointment." They have since made me a technical consultant without a paper to show for it. enough of this nonsense".
Onigbinde, also advised the NFF to embrace the idea of developmental football as a way to promote standard football programme in the country. Onigbinde, while delivering a paper at the seminar in Abuja, said that much was expected of the NFF technical department, which he tagged moribund, as it has not lived up to expectation on its oversight duties."What is wrong here is lack of implementation of programmes and it is always the case when a round peg is put in squre hole. I hved written many proposals and all af them were submitted to the federation for implimentation but non has seen the light of the day".
He said that with the like of the new coach of the Super Eagles, who during the screenig exercise was seen as a developmental coach, things might begin to work well again.The former handler of 3sc of Ibadan, enjoined the particpating coaches to go back and embrace the idea of developmental football as a road map to successfull coachig career.