Wamakko, Shagari's supporters clash in Sokoto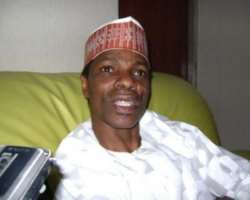 Trouble broke out on Sunday when Supporters of the All Progressives Congress (APC) loyal to Governor of Sokoto State, Aliyu Wamakko, allegedly set ablaze some structures belonging to members of the Peoples Democratic Party (PDP) in the state.
PDP thugs in support of the state Deputy Governor, Alhaji Mukhtari Shehu Shagari, also attacked the APC members in retaliation and injured many in a free-for-all-fight.
According to accounts, dangerous weapons such as knives and cutlasses were freely used by assailants on both side.
Wamakko is one of the five governors of PDP who  recently defected to APC.
The chaos in Sokoto  came on the heels of the approval of the constitution of the state Interim Executive Committee of the APC by the national secretariat of the Interim National Executive Committee.
The SaharaReporters reports that APC thugs on commercial motorcycles allegedly stormed a PDP youths joint in Runjin Sambo area and engaged them in a physical combat before setting the place ablaze.
According to the report, eyewitness alleged that they heard the supporters chanting 'Sai Alu Wallahi' as they disembarked from their commercial motorcycles and started beating people up around the PDP stand.
At first, the PDP youths the APC supporters met had resisted the attack, but after some serious fighting, the PDP thugs overpowered them and sent them away. They set the stand ablaze before leaving.
The SaharaReporters learnt that the PDP thugs regrouped later and also attacked some structures of the APC mostly large billboards of Wamakko, which was recently mounted in a strategic location in the state capital after he announced his defection to APC.
The confrontation, it was further gathered, signalled the return of political violence in the state like the one witnessed in 2007.
The fight may not be unconnected with the recent reception accorded the deputy governor on Friday, after he returned from Abuja. The deputy governor had said he remained loyal to PDP and would never decamp to any other political party despite the fact that his boss has already decamped to the opposition APC. The PDP at the national level has since appointed Shagari as the party leader in the state.