NIGERIA WELCOMES JAPANESE INTEREST IN LIQUIFIED GAS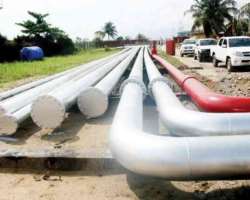 Nigeria welcomes Japanese interest in liquified gas
By Elizabeth Archibong
2010-03-12 04:44:55
The federal government has welcomed the decision of the LNG Japan Corporation to participate in the development of the Brass LNG Project as a strategic investor and charged it to ensure employment for the Nigerian youth.
Acting President Goodluck Jonathan told executives of the Japan LNG, who paid him a courtesy visit in State House today, that government expects the Brass project to take off as soon as possible.
'This project is one that will create direct and indirect employment, and take many more unemployed people off the streets,' Mr. Jonathan said.
He recalled having discussions with the Japanese Prime Minister, in May 2008, during the Fourth Tokyo International Conference on African Development (TICAD 4) on Foreign Direct Investment (FDI) to
Nigeria, and noted that the interest shown by LNG Japan is a good follow-up of that initiative.
Maximum value
Chairman of Japan LNG Corporation, Shizuka Tamura, who led the delegation, said his company is willing to invest in the Brass project and bring 'maximum value' to the people of the Niger Delta region and the oil and gas industry of Nigeria.
'Now is the right time to progress the discussions further by promoting Brass LNG as the new flagship project between Nigeria and Japan, through our participation,' he said.
Mr. Tamura said his company has been in the LNG business worldwide since the 1970s, and currently imports nearly 15 million tones per annum of LNG to Japan, which represents one-fourth of all LNG consumed in Japan.
Also present at the meeting were the minister of petroleum, Rilwanu Lukman; the minister of state for petroleum, Odein Ajumogobia and presidential adviser on petroleum matters, Emmanuel Egbogah.