Exposed: How Some PDP NWC Members Were Bought Over by Anti-Jonathan Governors to Sup......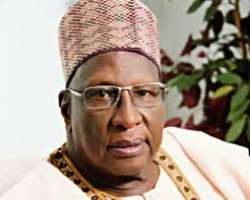 There are serious indications in the Political Circle now that some members of the PDP National Working Committee have yielded to the overtures of some State Governors who are anti-Jonathan's second term bid in the agitation for the removal of the Party's National Chairman Alhaji Dr. Bamanga Tukur.
The Governors who are believed to be anti-Jonathan interest with a hidden agenda are said to have secured the support of the Party's NWC members with serious negotiations, overtures and inducements.
It was reliably gathered that one of the Governors from the South-South state holding exalted position in the Governors Forum is nursing the ambition of contesting the Vice-Presidential position with a yet to emerge Northern candidate of the Party, if Tukur is removed as the Chairman from the Northern Axis.
This plan was said to have given rise for the mobilization of other Governors in the agitation for removal of Dr. Tukur who is believed to be a strong supporter and pillar of the President in his 2015 re-election bid.
Reliable sources close to some of the PDP Governors in this anti-Jonathan crusade revealed that the Governors have resolved that with Tukur as chairman, their plan to scuttle Jonathan's second tenure bid will not materialize as Tukur will be a stumbling block.
Based on this, the South South Governor with some of his colleagues were said to have solicited the cooperation of the NWC members who threatened massive resignation if Tukur is not removed as the National Chairman at the Party's NEC Meeting slated for 16th January, 2014.
A member of the National Working Committee informed us that the said NWC members have even made their views known to the President in a recent meeting with him but their plans and actions were also countered by some other members of the NWC who refused to join the crusade for the Chairman's removal for other hidden agenda or mercantile connotation.
It is now clear to political observers that the present crusade or agitation for Tukur's removal is not based on incompetence, mal-administration or any other genuine reason.
It will be recalled that quite recently these anti-Jonathan Governors working underground have sponsored some advertorials and dangerous SMS messages aimed at bringing the hard earned National and International reputation of the PDP National Chairman to the dustbin while also working clandestinely to undermine the effectiveness of the Transformation Agenda of the President.
However, it is believed that given the resolute decision, steadfastness and sincerity of those who support democratic dispensation, Internal Democracy and Discipline in the Party, the embattled Chairman may scale through all these man-made Political Obstacles at the end of the Party's NEC Meeting on 16th January, 2014.