The Kris Okotie we've missed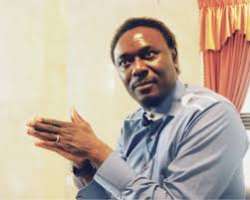 I HAVE two confessions. I once heckled Pastor Chris Okotie.  Chris - Kris to most of us then - had dropped by the University of Lagos sometime in 1984, if memory serves. The auditorium was packed to capacity. Chris had barely begun to speak when commotion erupted, particularly from the back where I was seating. We whistled and heckled and tossed whatever we could lay our hands on the stage. No, nothing to do with our poor understanding of his bombastic English. We were simply furious because Chris, the Wonder Boy of Nigerian music, had come to preach the Gospel, not to perform his hit songs.
Were our expectations misplaced? Not quite. Chris was his ebullient and dapper self,  well turned out in a pair of blue jeans and sleeveless T-shirt, complete with his famous jerry curls. As he caressed the mike and paced across the stage, the girls who had taken position in the front rows, screamed.  With the star power that Chris exuded, this was more than enough to turn on the boys, not to mention the girls. So what did he expect? It wasn't a very smooth session, to say the least.
But I had a more profound reason for joining in the protest: I detested his decision a year earlier to dump the mike and pick up the Bible. I encountered Chris in my town Ikot Ekpene at the time I was waiting for my JAMB result, dividing my time between record shops and the library, actually more in the record shops. I was doing the record shop rounds one boring afternoon, when I heard Carolina in My Mind blaring from the speakers and instantly knew it wasn't the James Taylor version. Overwhelmed with curiosity, I entered the shop to check it out. There it was, placed in a special position, well away from shelves crowded with other albums. The album hit me right in the face: a costumed Chris pointing defiantly and announcing,  I Need Someone.
In every department, his cover of Carolina is better than the original by a mile; it has soul, passion and that raw verve that is lacking in what contemporary singers are churning out. With Carolina, as with his other songs, Chris does what contemporary Nigerian entertainers can only dream of: he sings from the heart and with his real voice.
Chris Okotie's debut album changed the face of the local entertainment scene, making him arguably the first Nigerian music super star of the modern era.  In the creative department,  I Need Someone was a huge success across the country. Commercially, it was a monster hit, outselling Suny Ade and lingering forever in what could then pass for the Nigerian music chart.  Chris had it all: women, fast cars and the root of all envy. But he had something else - class. And style.  No amount of money can buy class and style.
As I understood it then, Chris was so smart with matters that notoriously fraudulent recording company executives were in their best behaviour when dealing with him; they stood no chance in hell. But what I really think happened was that his talents - and earnings - were such that even after the executives had 'taken' theirs, there was still enough left to go round. And to think that Chris interrupted his education to make such a massive impact on the music scene.
While Chris is exceptionally gifted, you must also give some credit to his producer - whether it was Odion Iruoje or Laolu Akins is immaterial now - who brought his music to life.
When Chris left music to pursue a career on the pulpit, something also left me. Then, as at now, I felt he left music prematurely.  His best years were still ahead of him; he had not even inched close to his peak. It was foreplay; the best, the main event was yet to come.  This wasn't a question of leaving when the ovation was loudest. It was turning his back on the millions who adored him and his work; it was a tragedy. And over the years, I have quietly nursed the thought that Chris might one day stage something of a comeback.
His untimely departure from music meant a loss of at least two generations of young men and women who would have benefited immensely from his extraordinary talents. This came home to me rudely last year, when I ran Carolina on my laptop for my daughter, then 18. I asked her who she thought the artiste was. She had no clue. I called my younger sister, then about 30, to listen to it. She made two wrong guesses and gave up. Imagine the pleasant shock on their faces when I told them that the voice was that of the man they now know as Pastor Chris Okotie.
For Chris, it has been a roller-coaster ride since then. He finished Law School, founded a Church and even a political party. Few would take Chris seriously as a politician. But for those of us who have nothing but admiration for him, it is a credit to his passion and drive that he is able to organize a political party and put himself forward as a presidential candidate in our chaotic political scene.
I am sharing my thoughts on Chris today because he is now celebrating 30 years of toiling in the Lord's Vineyard. No mean feat that. But what struck me is the coordinated marketing of the anniversary itself, all based on the principle of show business, which Chris rejected 30 years ago.  Firstly, his publicists put out the N200 million Rolls Royce story. Secondly, Chris himself took on the Catholic Church, perhaps the world's greatest religious body. It took Cardinal Anthony Okogie, no less, to come out of retirement to issue a stinging rebuke.  And Cardinal Okogie does not pull punches.  Being a big fan of Free Speech, I believe Chris should be allowed to have his say. It isn't even a storm in a tea cup. Besides, the Catholic Church is too solid, too big and too old to be dented.
It is tempting to view Chris from the prism of how many people he lured to hell as a circular entertainer and how many he will usher into Heaven as a minister of God. We should resist that. Personally, I would be crushed if Chris himself is thinking along those lines. Instead, he should look back at his brilliant but short-lived music career with pride.
He should also address his mind to some of my concerns. Why, for example, has he stubbornly refused to make gospel music? This is a disservice to his followers. Chris doesn't seem to realise how huge a blessing his voice is. He must be told in no uncertain terms that one hit gospel tune from him can win thousands  of souls and bring joy to millions more. Today, Donnie McClurkin speaks from the pulpit but he is better known as a recording artiste.  And if Chris is on top of his game, Don is no match. What does Chris think of our recording artistes and much of the noise that passes for music today?
Anyone who genuinely loves Chris must be concerned about the fact that he is struggling to start a family of his own. I am. Which is why I am not amused when I read about his problems with women or wives.  Kiki Gyan, the late Osibisa keyboardist, once lamented that with all those women in his life, he had only one daughter to show for it. Heaven forbid a Chris Okotie without an heir apparent. It would be too tragic to contemplate. Thirty years into his ministry, Chris needs that someone now more than ever.
And my second confession? Am I at ease with Chris for ditching music?  Don't bet on it because the truth is I am really not sure. And I am not alone.
By every measure, Chris, the musician, the lawyer, the pastor, the politician is one of the most accomplished Nigerians of our time. I wish him every success in his ministry. But as he celebrates, he should spare a thought for the Kris Okotie we continue to yearn for.
• Ukpong wrote via [email protected]