Gov. Rochas Okorocha of Imo on Thursday commended individuals, groups and communities for supporting the state government to provide quality education in the state.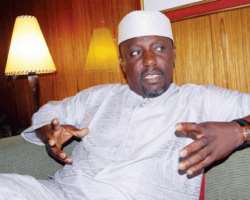 Okorocha made the commendation at the hand-over of a new primary school building donated by the U.S. chapter of the Ulakwo People's Assembly in Ngor-Okpala Local Government Area.
The governor, represented by the Commissioner for Education, Dr Uche Ejiogu, reiterated that education was the biggest industry in the state.
He said the education sector had been in a pitiable state before the inception of his free education programme, adding that the sector had since been repositioned and given the appropriate attention.
The governor also said the achievement of qualitative education required the investment of huge financial resources.
"Education takes the greater chunk of the state's resources because the government has given it a top priority.
"The government believes that it is through qualitative and functional education that societies can develop and individuals empowered to attain full potentials," he said.
The governor said the state government welcomed and appreciated individuals, groups and communities that identified and partnered with it in achieving the set goals.
He commended the Ulakwo People's Assembly for assisting the government in providing a conducive environment for effective learning and teaching.
"He also appealed to them to assist the school by providing a band set, computers and equipping its library.