South African Pastor Daniel Lesego Makes Members Eat Grass & Walks On Them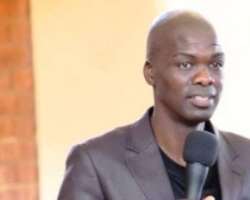 If you thought some Nigerian men of God are not up to scratch, you will begin to appreciate them when you hear what a South African Pastor, Daniel Lesego, the General Overseer of the Rabboni Center Ministries, located at Zone 2 Ga-Rankuwa, north of Pretoria did to his members, all in the name of working miracles in their lives.
The man of God hoodwinked and hypnotized his followers into going into an open field and feasting on the green grass.
To cap the humiliation, Pastor Daniel Lesego ordered his flock to lay down while he walked all over them. He even justified his actions by saying that the spirit of God can lead His people to eat anything.
The Pastor also defended his actions with these words:
'There were many disciples and you don't know others. Let God show you as they were deliberately not revealed in the Bible because God wanted someone to do them, new things.
'Nathanael was a disciple yet there is no book of Nathanael. What about the miracles, signs and wonders? What about those who were not mentioned?
'We know about Peter and the rest and it will take God's power to reveal the Christ in Bartholomew, Thomas called Didymus, Nathanael of Cana in Galilee, the sons of Zebedee and two other of his disciples.
'Let the stripe open and God show you and you will begin to do them also. The sons of Zebedee and two others, do you know them? They were there and they were participating in the body of Christ.
'The world cannot see or hear and some behave like the world and they criticize Bartholomew because they cannot see him. What have you eaten? The body and the blood and he lives in me, constantly he is in me, and he lives in me.
'Come and eat so that your eyes may see. Simon Peter said: I am going fishing, this is wrong. He went back to the earthly position where Jesus found him.
'These are the types of miracles that will cause many to repent because this is the message through miracles, signs and wonders.
'Jesus did not come in a friendly manner because they were doing what Jesus did not tell them to do.'