INEC assures Nigerians of credible election in 2015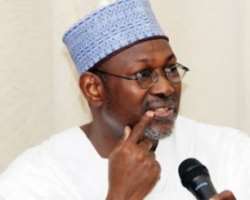 The Independent National Electoral Commission has said that it would do everything possible to ensure free and fair election in 2015 elections.
According to the commission's Chairman, Prof. Attahiru Jega, the problems observed in the Anambra governorship elections will not happen in the 2015 elections.
Jega spoke during a meeting with the Ambassador of the Royal Kingdom of Netherlands, John Groffen, at the national headquarters of the commission.
He said that the electoral body was doing its best to ensure that the irregularities witnessed in the Anambra governorship election in 2013 would not reoccur in 2015.
The ambassador said that the international community was interested in seeing that Nigeria's democracy was stable with free and fair elections.
'The commission had learnt from its experience in Anambra and this will help it plan better for the two governorship elections holding this year and the general elections coming up next year,' he said.
The irregularities that were witnessed in the Anambra election had left doubts in the hearts of Nigerians whether the electoral body would be able to conduct a free and fair election in 2015.
The visiting Ambassador of the Royal Kingdom of the Netherlands sought to know how prepared the electoral commission was in handling political activities in 2014 and in 2015.
Professor Jega said that the prospects for the country's electoral process were good, as the commission had made significant improvements to the process.
He assured the ambassador of the commission's preparedness to handle the two governorship elections that would hold this year in Osun and Ekiti States.
'The year will be a very busy one for the commission. The electoral body will keep on improving the process,' he said.
Nigerians will have to hold onto these assurances as they look forward to the coming elections.