Femi Fani-Kayode: A Resourceful Icon at 49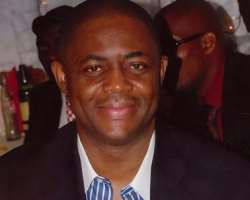 Nigeria should indeed be elated to have Femi Fani-Kayode as one of its citizens who have done the country proud in no small measure. The genius was born on 16th October 1960 to Chief Remilekun Adetokunbo Fani-Kayode and to Chief (Mrs) Adia Adunni Fani-Kayode. Accordingly the little infant of those years was christened as David Oluwafemi Adewunmi Fani-Kayode.
From records of facts Chief Femi Fani-Kayode loves reading modern and ancient literature, playing polo, practicing karate, watching rugby and boxing, studying eschatology, studying European history, philosophy and literature, writing articles and poems, breeding and raising high pedigree guard dogs and shooting; in addition is on the famous social network (FACEBOOK). He speaks Yoruba, English and several other languages very fluently. He is an orator, public speaker and an optimist . Femi Fani-Kayode is happily married to Mrs. Regina Fani-Kayode (nee Hanson-Amonoo) from a distinguished Ghanian family and who is a pastor and a rising figure in the intercessionary ministry of the Pentecostal/Evangelical church.
God in his infinite mercy blessed his marriage with a beautiful daughter; Remi Fani-Kayode. Femi Fani- Kayode has 4 other daughters. The first, Folake (who is a graduate of Durham University) is a product of his first marriage to Saratu Attah, a distinguished Ghanian politician and businesswoman and the daughter of Alhaji Adamu Atta the former Governor of Kwara state. The other 3 daughters whose names are Temitope, Tobiloba and Tumininu came from another woman with whom he used to be briefly associated.
To those who do not know Femi Fani Kayode is a British trained lawyer, with enviable political pedigree and dogged stand for genuine activism for the realization of true democracy which eventually dove-tail to what Nigeria currently have in place (10 years of uninterrupted democracy 1999-to date). Femi Fani-Kayode went into self-exile and pitched his tent with the National Democratic Coalition (NADECO) abroad, together with the likes of the Oxford-trained lawyer Chief Tunde Edu and others. Apart from these rare virtues, he still finds time to commune with God, he is an Evangelical Christian, essayist, a poet and he was the Special Assistant (Public Affairs) to President Olusegun Obasanjo from July 2003 until June 2006.
Consequently when his overwhelming achievements became a so glaring to Nigerians and friends of Nigeria, which even overshadowed that of the Minister of Information that time; a minor cabinet re-shuffle was done same year he was re-deployed and was appointed as the Minister of Culture and Tourism of the Federal Republic of Nigeria from June 22nd to Nov 7th 2006 and subsequently as Minister of Aviation from Nov 7th 2006 to May 29th 2007.
After the successful completion of his programme in law school in the year1985, Femi Fani-Kayode worked in the law firm of Chief Rotimi Williams in Lagos after which he moved to his father's Law Firm "Fani- Kayode and Sowemimo". There he worked under the direct tutelage of his father and his uncle, the late and highly respected Chief Sobo Sowemimo S.A.N (whose older brother, the late Justice George Sodeinde Sowemimo, was the Chief Justice of Nigeria from 1983 to 1985). Other notable personalities that were trained at this great law firm include Chief Robert Clarke S.A.N, Alhaji Femi Okunnu S.A.N, Seyi Sowemimo S.A.N Justice Moni Fafiade, Justice Niyi Ademola, Chief Kunle Alex-Duduyemi (the wealthy businessman from Ile-Ife, South-Western Nigeria who Chief Remilekun Fani-Kayode mentored and trained), the Oxford-trained and brilliant Gbolahun Alastishe, the Cambridge-trained Abba Kyari (who later later became the managing director of one of Nigeria's largest banks), the Cambridge-trained Funke Aboyade, the Durham-trained Femi Lijadu and many other senior members of both the Nigerian Bar and bench. After working there for three years Femi Fani-Kayode was promoted to the position of a senior partner in 1989.
Some have argued that Chief Femi Fani-Kayode is the best man for the position of Chief Executive Officer of Osun State after the tenure expiration of the current leadership. However, his wealth of knowledge and experience in the legal profession as well as his human rights activism, with his additional indelible achievements in the field of politics could seemingly afford him that position in Osun State (OSUN STATE GOVERNOR). Of course he is a man that enjoys undoubted support from his people both home and abroad, even the royal fathers will not take his issue with levity. Indeed he is one of Nigeria's best brand ever produced. Happy Birthday to you Chief FFK.
For more info about Femi Fani-Kayode please visit: http://www.femifanikayode.org/index.html
[email protected]
+2348023660770 +2348023660770
Development / Ghana / Africa / Modernghana.com