Did Michelle Obama Ask Guests To Eat Before Coming For Her Birthday Party?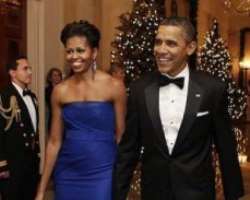 Michelle Obama is turning 50 on January 18 and she is planning a big bash at the White House but there are now claims that the invites have instructed guests to the First Lady's milestone celebration to 'eat before you come.'
According to Chicago Tribune, the gala has been plugged as Snacks & Sips & Dancing & Dessert and there is no room for heavy meals. So, guests are expected to have eaten in advance.
However, reactions from some top media personalities across the America on the bizarre IV instructions from the White House could mean, Mrs. Obama didn't really have to mention that on the cards;
&
Entertainment expert, Colin Cowie confessed to Washington Post yesterday, 'To ask people to 'eat before you come' is not the way I would have done it. I always think of the food,' Cowie said about the possible Obama faux pas. 'When it comes to making people feel welcome we give them great music, a well-stocked bar and excellent food - and you do it abundantly.'
Great-great-granddaughter to etiquette guide Emily Post, Lizzy Post jokingly mentioned, 'I don't think it's rude, but I do think it's a little. . . different than what people are used to. How's that for putting it delicately?'
Well, for those who will finally attend the much talked-about First Lady Birthday Bash, get ready to watch President Barack Obama's wife do 'The Dougie' dance. It's on the special menufree for all!
But what do you make of the White House Special Invitation Instruction?