House C'ttee puts budget on hold over Face-off with Okonjo-Iweala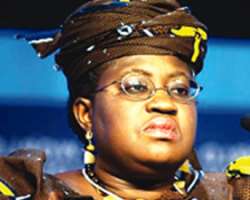 The  House of Representatives Committee on Finance may have decided not to  work on the 2014 budget unless the Coordinating Minister for the Economy and  Minister  of Finance, Dr. Ngozi Okonjo-Iweala,  responds to the 50 questions the committee gave her on December 19 on the state of the economy, according to local media reports.
According to the reports, the committee is not happy  in the inability of the minister to meet the two-week deadline given to her to submit written answers to the questions.
THIS DAY report, quoting sources, indicated that the lawmakers have declined to work work on the budget  unless the minister responds to the questions. In the legislative process, a committee plays a crucial role as the clearinghouse before the passage of a bill.
The source said members of the committee had resolved not to look at the revenue framework until the minister responded to their request.
It was learnt that the committee had written a reminder to Okonjo-Iweala, telling her that it will accept nothing short of  written answers from her to its queries on the economy.
The source said: "As I am talking to you, the finance minister has not yet responded to our questions and we are not joking about it, we must be given these answers before we do any work on the budget revenue frame work.
"It is the sole responsibility of the finance committee to work on the revenue framework which will form the basis for the passage of the budget together with the expenditure frame work which will be worked on by the Appropriation Committee.
Therefore, we have decided that we will not open up the budget revenue frame work until she responds to the 50 questions."