Igbo Leaders reject Okunroumu Committee on National Dialogue's recommendations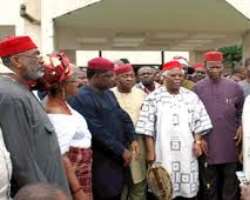 Igbo leaders have said that anything short of producing a brand new constitution was not acceptable to them.
They also would not take representation in the coming National  Dialogue on the basis of senatorial district and federal constituencies.
The Igbo leaders under the aegis of  the Concerned Igbo Leaders of Thought led by renowned constitutional lawyer, Prof Ben Nwabueze, were making their position known against the background of the recommendations by Senator Fred Okoronmu Presidential Advisory Committee on National Dialogue.
The group rejected the proposal by  Okoronmu Committee which recommends  the amendment of the constitution and for selection of delegates to be on the basis of senatorial zones or federal constituencies.
The group made their position known during a media briefing in Enugu on Monday.
The Igbo leaders also gave an indication that they  had initiated action aimed at reconciling the various factions currently locking horns in the pan-Igbo socio-cultural organisation, Ohaneze Ndigbo in order to ensure that Igbos are not divided on the conference.
Secretary of the group and former Director General of the National Orientation Agency, (NOA), Prof Elochukwu Amucheazi, spoke on behalf of the group after their meeting in Enugu, Enugu State capital.
According to him,  the Igbo position on the conference would be made public by the end of January.
Those who attended the meeting Senator Anyim Ude, President-General of Ohaneze, Chief Enwo Igariwey, Arch Bishop Maxwell Anikwenwa, Dr Okwesilieze Nwodo, Senator Offia Nwali, Dr Chu Okongwu, Chief Ben Obumselu, Dr Dozie Ikedife, Mrs Maria Okwor, Chief Enechi Onyia, Engr Chris Okoye, Elliot Uko, Igwe Aja Nwachukwu, among others.